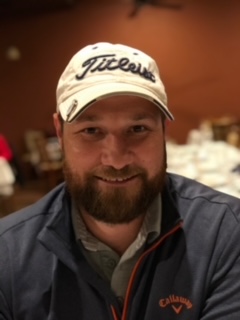 Big T's Golf was started after realizing that picking a driver for the average amateur golfer, without going to get fitted, was about as clear as pond water. I was looking for a new driver and started running into problems understanding why I would select the Max, Max D, Max LS, or Triple Diamond LS. I started researching, and soon found that I had a pretty good understanding of what all of it meant. But I also wanted to look at Ping drivers, Cobra, Titleist etc. They all have their own unique set of letters and numbers.
It's very easy to find someone telling you "this is the best ball" or "this is the best driver". But those recommendations may be terrible for you or I. Just because some Pro on YouTube says the Callaway Triple Diamond LS driver is the best, that doesn't mean it's good for me. In fact, I personally have no business playing that club. My strike consistency is not nearly good enough for that club to be the best for me.
Part of my research led me to several club selector tools from the various manufacturers. So I thought – why not have one that is brand agnostic. I found the same problem with golf balls – So I decided to create them. I love golf, and I love sharing and helping others. I've also spent way too much time watching YouTube videos, and pouring through research data and reviews. It's just something that I like to do and I want to share what I find.
Bottom line – I am on a mission to provide tools and resources that will help you make better decisions about your equipment. I also hope to provide some useful tips and blog posts along the way.
Feel free to contact me at bigteesgolf@gmail.com or (414)-444-8352
What's in the Bag?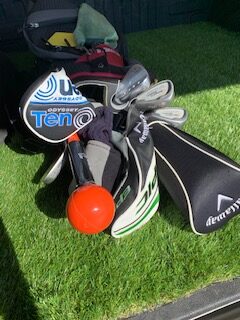 Clubs
Driver – Ping G425 Max
3-Wood – Callaway Epic Speed Fairway
5-Wood – Early 2000's Custom Distance Master (Built by my Grandfather)
Irons (3-SW) – Early 2000's Custom Distance Master (Built by my Grandfather)
Putter – 2021 Odyssey Ten 2-Ball Triple Track Putter
Wedge – 58 degree Vokey
What I like
I am loving the putter, recently upgraded from an old Ping Anser 3 blade putter. The new putter seems to be much more forgiving and my alignment is significantly better.
My driver and 3-wood were some much needed upgrades. I was still using the original clubs from the set my grandfather built about 20 years ago. When I got the new driver a couple years ago, I realized the old one was about the size of a 3-wood. I instantly got about 50 yards more distance on my drives with the upgrade. The old one had some damage, so I think that contributed to lost distance.
Irons – I hit them well. Nostalgia – they were the last set of clubs my grandfather made. But they are getting old and I could probably benefit from more recent technology.
What I don't like
Gap Wedge. I bought it a couple of months ago (spring 2022). I hit it well on full shots, but struggle to connect well on anything else.
5-wood. I really don't use it anymore. It is an offset club and when I hit it, I just pull everything. I will probably upgrade to the Epic Speed 5 or 7 wood.
Everything Else
Balls – Bridgestone Tour B RX (although I have been messing around with a few recently including Vice Pro, Taylormade Tour Response, ProV1x and a few others)
Tees – Cheap (usually get the 2-3/4 inch bamboo tees in bulk, they last a few seasons and are reasonably durable)
Warm-up Stick (Tons of these on Amazon, decent weight, flexible shaft…helps to get the muscles moving and warmed up before I tee off on 1)
Bag – Founders Club Cart Bag (I love this thing! Mainly because my clubs don't rattle around and each has its own slot.)
Wosports Range Finder – (It was on the lower-end on price, but great ratings on Amazon and seems to work great for me)
FootJoy Glove – (I always have 2, that way I can rotate their use every couple of holes to keep them dry)
Sunscreen and bug spray – Always have both mosquito and gnat spray, Buggins Gnat spray is the best IMO.
Alignment Rod – I don't always have it in the bag, but use a 4′ driveway marker rod for this. Inexpensive and works great. Just pick one or two up at your local hardware store.
Q & A
How long have you been playing?
As long as I can remember. My grandfather was a golfsmith, so I always had clubs. I talk more about this in detail here.
What is your handicap?
Currently an embarrassing 16.
A somewhat respectable 9.3 – as of April 26, 2023
How often do you play?
At least twice a week, sometimes 3 or 4 times per week. Men's league on Tuesday's, Couples league on Friday's. Then once or twice on the weekend depending on what's going on.
Where do you play?
We are members at the Waterloo Country Club, so we primarily play there. We venture out from time-to-time as well.
What is your Day Job?
I have been in IT since 2005. I currently work as an IT Program Manager and have spent time doing Systems Engineering, Project Management, and Development over the years.
What Technology do you use on this site?
WordPress, hosted on AWS Lightsail with DNS through Amazon Route 53. Astra Theme and Formidable Forms. Heavily leveraging Formidable Forms for Balls, Drivers, Selector Tools, Calculators, its a great tool and I highly recommend it. If you have specific questions on any of it, I am happy to help, just send me a note!
What plans do you have for the site?
In the short-term, I am going to offer a golf ball giveaway contest to promote my golf ball selector tool. I'll collect feedback and use that to help determine areas for improvement. I am also going to invest time in product testing (already have a few that I've been working on) and share my thoughts through more blog posts. I'll see where it goes from there, I'd love to get some feedback from users to help determine where it goes.
What about outside of golf?
My wife and I have 4 kids between the two of us, ages 13, 15, 18, and 18. Both of us have a boy and a girl. The girls are both 18 and headed off to trade-school/college. We love Vegas and enjoy traveling there when we can. That's where we got married (at the Bellagio), so we enjoy going back. We also love to play Craps. We used to say – "Craps is our winter sport, golf is our summer sport". Golf can be expensive, craps can be even more expensive, so we tend to limit our craps play.