Golf Ball Selector
---
Are you looking for golf ball recommendations online? Our application will help you find the right ball for your game. Simply answer a handful of questions, nothing crazy, and we will provide you with a list of golf balls that meet your criteria.
Ball Fit
Finding the right fit based on your personal preferences can be difficult without a ball selector tool. How do you balance spin, greenside control, distance, brands, feel, trajectory, and price?
You could contact a professional golf ball fitter, take your clubs to a facility and go through a ball fitting. Or you can skip all of that and simply answer a handful of questions. Golf ball fittings can be expensive and time consuming.
We have hundreds of data points on many of the top golf balls on the market. Hundreds of data points! Spin, trajectory, ball speed, feel, how they react to different golf clubs, the list goes on.
Most of the data is publicly accessible, but it is overwhelming for the average golfer to sift through all of it. That's why I created an easy to use tool for my fellow golfers. It's basically a golf ball fitting quiz.
Why did I create a golf ball selector tool?
Well, I am a bit of a data geek and I love golf.
A few years ago, I started playing regularly again and had a bucket of random balls sitting in the garage. I started taking these out to the course and over time started to notice a huge difference in how they would react.
I was always one to think that equipment didnt make that much of a difference. But as I started to improve my game, I absolutely noticed a difference off the tee and around the green.
I started researching, trying to find the best golf ball for me to play. It wasn't easy. I could certainly go to my favorite brands website and go through their golf ball selector. But the products they delivered were limited to their own brand.
Don't get me wrong, it is great for their customers. But, I was never one to recommend something based on brand and it was hard to limit myself to their site. So I'd go try all of the different tools.
When I started this website, it was one of the first things I did. I figured if I had this problem, lots of my fellow golfers would have the same issue.
I was never one to select a ball based on brand, I'd look at distance and spin. Then I'd take it out to the course and see how it felt.
Selecting the best golf ball
Everyone has slightly different preferences. Some people care about trajectory, others don't. Most care about feel, soft or firm, and almost everyone cares about distance with their driver off the tee.
Most also care about spin around the green. If you have data on how long a golf ball goes with driver from various swing speeds. Coupled with data on trajectory and spin rates on other clubs, including a high lofted club such as a sand wedge, you can get a very good idea of spin on approach shots and around the greens.
With this data, it is fairly simple to recommend a golf ball to someone. Obviously feel is a very important factor, so that is certainly built-in.
How about price? There are some great performing golf balls on the market for significantly less.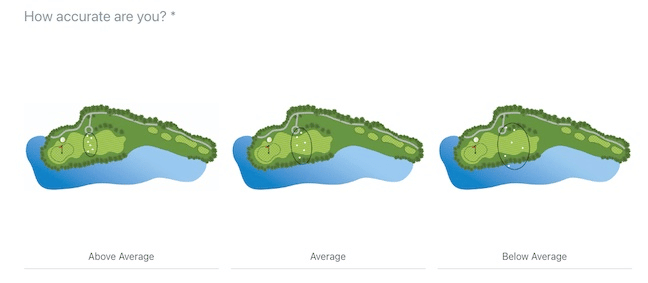 With some simple math, you can find a golf ball that is a good fit for any golfers game. A ball that will maximize distance with driver and have the preferred feel.
The tool will recommend a couple of balls. Take your pick and go try it out on the course. If you are unsure, you can usually just buy a sleeve from your local pro shop. Take them out, try some different clubs and see how long it is off the tee.
Do some chipping and putting. Just test them out in general. You'll have a pretty good idea if you like them from there.
Golf Ball Recommendations
Based on the ball selector tool, independent studies, and my own experiences I have created quite a few resources for golfers looking for the best golf balls for their game.
Here are the best golf balls for distance
Here are the best golf balls for beginners
Best golf balls for mid-handicappers
Lets not forget about the best golf balls for seniors
And the best golf balls for slow swing speed players
Giveaways
I've done a couple of ball giveaways on twitter and one on the website to date. I plan to do more in the future. It is totally optional to enter your email address. If you do, I'll send you an email before the start of a future giveaway.
There is not a special form and no need to sign up for anything in particular. I usually just try to promote the selector tool and do a giveaway that coincides with a product I just finished testing. Well, if I like and would recommend the products that is.
Final Thoughts
Picking a golf ball that delivers on all of its promises can be hard to find. Manufacturers hype their products. But everyone has different preferences and all of the balls on the market have different performance characteristics.
Give the selector tool a shot and share your feedback! If you like the tool, consider trying our driver selector tool too.
Thanks and good luck on the course.