A friend recommended Snell golf balls a couple of years ago. He was a big fan of Snell Golf because they were less expensive and the founder had a very long history working for major golf ball manufacturers. Including Titleist and TaylorMade. I am glad I finally tried them.
Snell Golf is a direct to consumer company with two golf ball models, the MTB Black and MTB-X. I recently bought their test pack and put them through the simulator. I've also played a round with both models. I was impressed!
The Brand
Snell Golf was created in 2015 by Dean Snell. Snell had worked for almost 30 years in the ball manufacturing business. He was the co-inventor of the ProV1 and invented several balls in TaylorMade's lineup.
I recently did a review on Cut golf balls, another direct-to-consumer manufacturer. If you have not heard of them, check it out.
Dean Snell has been granted more than 40 U.S. Patents and has several more pending. The company is committed to developing premium balls at a low price. To achieve lower prices, they sell direct to consumers and do not offer big Pro sponsorships.
Snell Golf Ball Comparison – Technology & Key Features
MTB-X Golf Ball
Firmer Feel
85 – 90 Compression Rating
3 piece construction
Cast urethane cover
Refined aerodynamics for low drag
MTB Black Golf Ball
Soft Feel
75 – 80 Compression Rating
3 piece construction
Cast urethane cover
Refined aerodynamics for low drag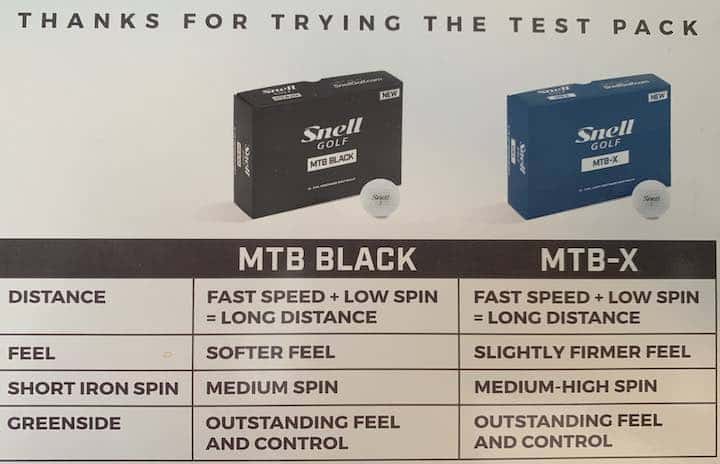 Detailed Reviews
Testing Results
We conducted two separate tests in the simulator to account for different swing speeds. I personally tested and averaged 110 mph swing speed. I also pulled in a good friend and current 2022 Sr. Club Champion, Mr. Fitz. His driver swing speed is 89 mph.
In the chart below, you can see Snell vs. Pro V1 from both golfers.
| | | | | |
| --- | --- | --- | --- | --- |
| | Spin Rate | Ball Speed | Carry Distance | Total Distance |
| MTB Black (89mph) | 3119 | 125.8 | 199.4 | 217.5 |
| MTB-X (89mph) | 2926 | 128.1 | 205.6 | 224.3 |
| ProV1 (89mph) | 3126 | 125.2 | 198.6 | 216.9 |
| MTB Black (110mph) | 2092 | 157.9 | 262.3 | 289.7 |
| MTB-X (110mph) | 2506 | 159.0 | 272.6 | 295.4 |
| ProV1 (110mph) | 2221 | 159.1 | 261.4 | 288.9 |
All Data Captured with a Foresight Sports GC3 Launch Monitor
Performance at a Lower Cost
Historically, Snell has offered tiered pricing with discounts when you buy 3-dozen or more. Then a steeper discount at 5-dozen. But with recent supply chain issues, Snell will only sell 2-dozen balls per customer on their website. They also sell out and are routinely labeled as "coming soon".
I would not let that discourage you from trying them however. They come into stock pretty quickly and fulfill backorders. They currently sell for 34.99/dozen direct from their website.
These will beat many on the golf ball market. They are comparable to tour balls with similar ball flight and ball speed. But they are significantly less expensive than a tour ball. Overall, I'd say both models are a great ball.
Personally, I would recommend trying their test pack. You get two sleeves of the MTB Black and MTB-X. You can test each out in your approach shots, then in the short game to see which you'd prefer. Overall, the performance I observed was right in line with that of a premium ball, but you're going to save quite a bit.
Snell Golf Balls – Frequently asked Questions
Do any pro golfers use Snell golf balls?
Not that I am aware of. Snell does not offer tour contracts, so it is very unlikely to see a PGA pro using a Snell ball. However, the creator of Snell balls was the Co-Inventor of the ProV1 and inventor of a number of TaylorMade's balls. Many tour pro's including the biggest names have used Dean Snell's products.
What are Snell balls compared to?
The Snell MTB Black is comparable to the Titleist ProV1. The Snell MTB-X is comparable to the Titleist ProV1x.
Is Snell a good ball?
Based on my personal testing, yes! They are very comparable to top-tier performance golf balls, but sell at a discounted price.
Which Snell golf ball is like ProV1
The Snell MTB Black is similar to the ProV1.
Final Thoughts
Who should play Snell Golf Balls? Well, anyone! Almost. I would consider them to be performance balls that are very comparable to that of a ProV1. Although inexpensive compared to a ProV1, I would only recommend them to golfers who have been playing a while and are looking for a quality ball.
If you are a beginner golfer, I would not recommend them. I have other recommendations for beginners and high handicappers.
If you are not sold on giving Snell a try, you may also be interested in Vice. I have a full review of Vice Golf balls here. You can also check out our ball selector tool, just answer a couple of questions and see your custom recommendations!
Good luck on the course!