Last Updated – Dec 6, 2022
In June, 2022 we purchased a home simulator from Foresight Sports that included the GC3 launch monitor. I'll just say upfront – it is pretty awesome! I'll go through all of the details and definitely share some gripes I have with it as well. If you are doing some research and thinking of buying one, you've come to the right place. I'll give you my unfiltered opinions on it.
I'll also extend an invitation – After reading my gc3 launch monitor review, if you would like to ask specific questions or set up a phone call, I'd be happy to answer anything. Just send me an email at bigteesgolf@gmail.com.
What is the Foresight GC3 Launch Monitor
Obviously, it's a personal launch monitor. BUT, there is a lot more to it than that. It comes with a full suite of capabilities that allows you to do far more than simply obtain data on your golf shots.
Indoor Golf and Home Simulator. With its FSX 2020 software, and add-ons like the FSX play software, it gives you a ton of options. You can hit at the virtual driving range, or play some of the most amazing golf courses on the planet in the comfort of your home!
Personally, I've enjoyed both! I have done a lot of work on the range with my 50/75/100 yard shots, it is ABSOLUTELY translating on the golf course. I have also played some pretty cool golf courses with friends. Teton Pines, set within the Teton Mountains in Jackson Hole, WY. I've never been there, but wow does it look awesome!
GC3 Data and Technology Features
This is an area where I spent a lot of time debating before buying. In hindsight – I wish I had committed sooner. When comparing the GC3 vs. GCQuad, there are some features missing, but at a significantly reduced price. Honestly – I'm not sure those "extra's" would be worth the price.
Unless you are a PGA Tour Pro. Heck, even if you are, the GC3 is worth considering!
I did a full post comparing personal launch monitors, it may be worth a quick look to see a side-by-side comparison of capabilities. Here is a grid from Foresight Sports showing ball and club data.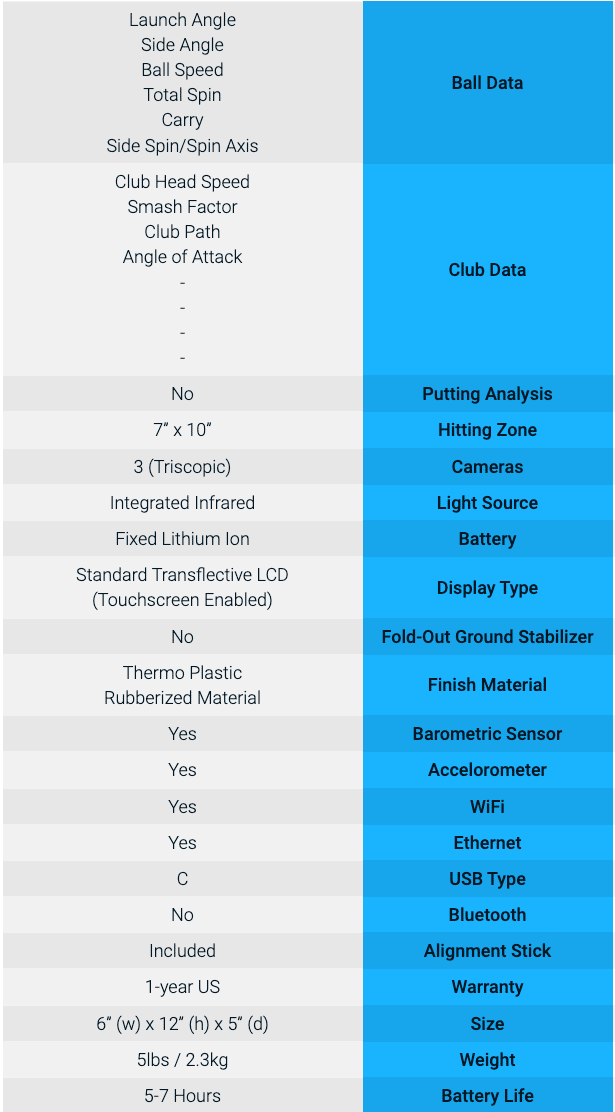 Here are a couple of my favorite data points.
Club Path – Right off the bat, I was surprised to learn that I had an Out-to-In club path tendency. No wonder I have been hitting everything left!! I go out-to-in, and close the face, starts left and stays left.
This has helped me correct my swing path and has straightened out a lot of my errant shots!
Angle of Attack – I love hitting bombs with the driver! Hitting up on the ball is VERY important to accomplish this, knowing these numbers has helped a ton! I've increased my driver distance significantly in just a couple of months. Going from roughly 270 yards to around 300 yards consistently. I've hit a few 330+ and on a journey to try my hand at long drive competition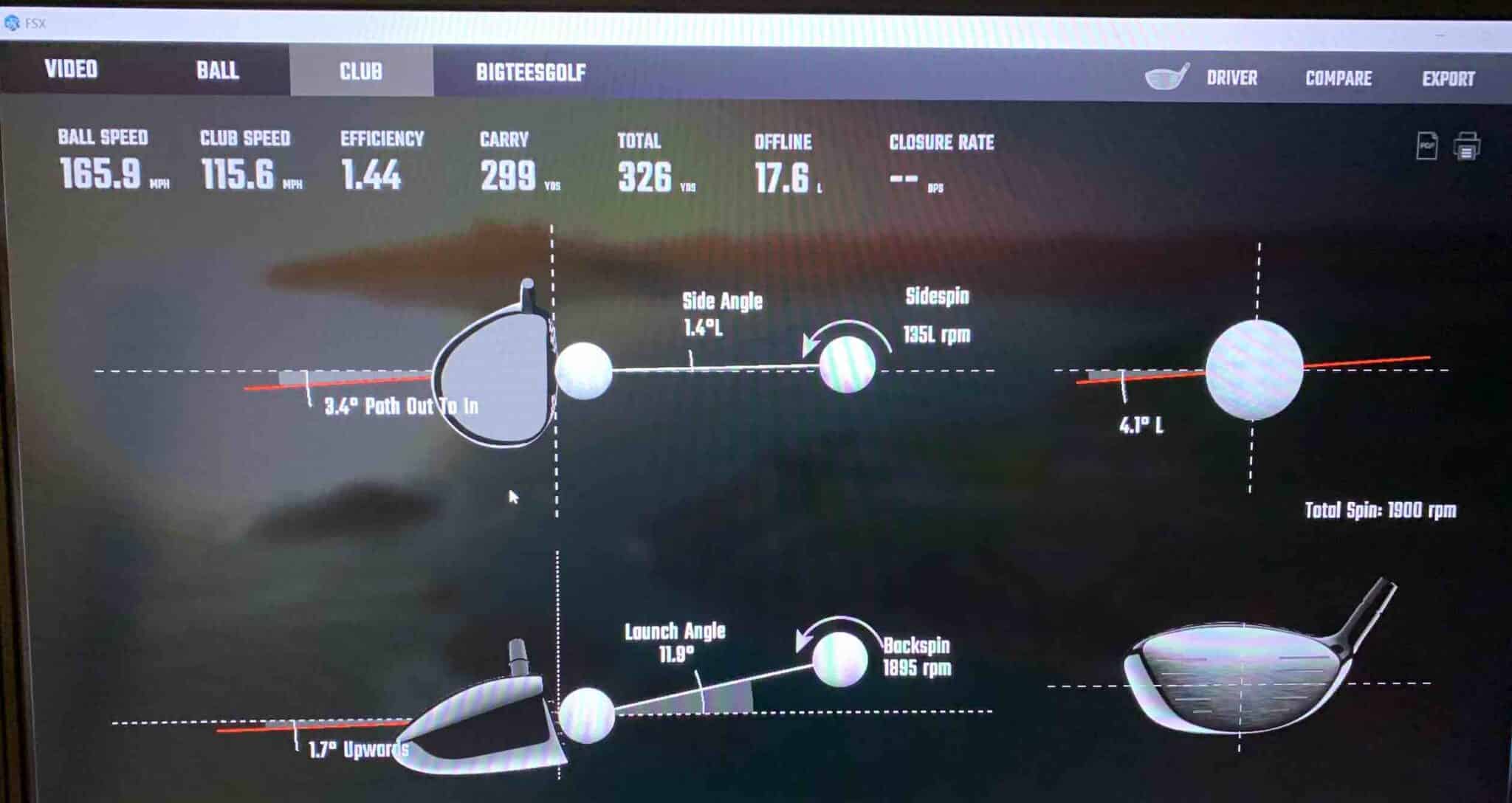 Club Head Speed and Smash Factor – You might say "no duh"…but the correlation between club speed and smash factor has been undeniable. The point is, I now know the optimal speed to maximize distance/accuracy!
Specifically, I can swing 115mph and hit the ball 300 yards. OR, I can swing at 108 and hit the ball just shy of 300 yards. The difference is – My typical offline miss is SIGNIFICANTLY LESS at the 108 swing speed. Translation to the course = Lower scores.
Tiger Woods says "swing as hard as you can while maintaining balance and hitting the center". I am finding that sweet spot with my GC3 launch monitor.
Check out my recent post for a full list of launch monitor data and definitions
Performance in all Conditions
Whether you are using the GC3 out on the course, on the driving range, or in a home simulator, it is a game changer! You will get real-time data on your shots no matter where you are playing. In the simulator, you can watch your ball on the screen just as if you were hitting on the course.
I typically use it in the basement, where there are no windows and limited light. I have a full simulator setup, so lower light helps to see the projector image. There has never been an issue! I have also turned out the lights just to see if it would work – it worked! The cameras have no problems picking up the ball.
I have also taken it out on the golf course to test distances. In full sunlight, it worked just fine. No issues whatsoever. Oh, and the distances – THEY ARE SPOT ON! I setup 50 yards from the pin (checked with range finder)…then hit balls at the green. GC3 results versus actual, pretty consistent!
Best of all, it requires very little space. It sits just a couple of feet in front of where you are hitting the ball. Perfect if you have a small space hitting balls into a net, or want to take it with you on the course or the range.
Golf Simulator, The Full Package
If you are looking to build an indoor golf simulator, the GC3 launch monitor is a perfect candidate for any build. Personally, I purchased a full sim package that came with everything I needed. Initially, I thought I would build my own and find different parts and pieces to make it work.
I recently posted my top 3 favorite golf tees to use in the simulator, you'll probably find it helpful!
When I priced everything out, I really wasn't saving much money and I felt I had introduced quite a bit of risk with some unknowns. For example, was the frame I planned to build going to be sturdy enough? The material I would use to wrap the frames, how would that hold up over time. Well, I now believe those would have been issues.
Purchasing the full package was the way to go, it saved me a ton of time. I had to do less research, and it was much easier to put together than if I had decided to do a custom build. I am certain I would have also had rework with a custom build.
Full Software Package
Although you can use the GC3 launch monitor as a standalone unit and get all of your data right from the main screen, the FSX software gives you some great visuals. The software runs on a gaming PC that connects to the launch monitor. As you hit, it updates. It's really that simple!
I will say, all of the different options can be a bit confusing, especially while you are trying to research. FSX 2020, FSX Play, FSX Live, FSX Pro…what is all of that?!?!
FSX 2020
The main software every GC3 comes with is FSX 2020. You can do pretty much everything with FSX 2020. The main categories when you open FSX 2020 are Play, Compete, and Improve.
Play on virtual golf courses. The graphics are not as good as FSX Play (more on that later), but they are still really nice.
Compete in virtual challenges including closest to the pin and long drive.
Improve on a virtual driving range while getting ball and club head data from each shot. You can also go through the club fitting feature to capture true distances for every club in the bag.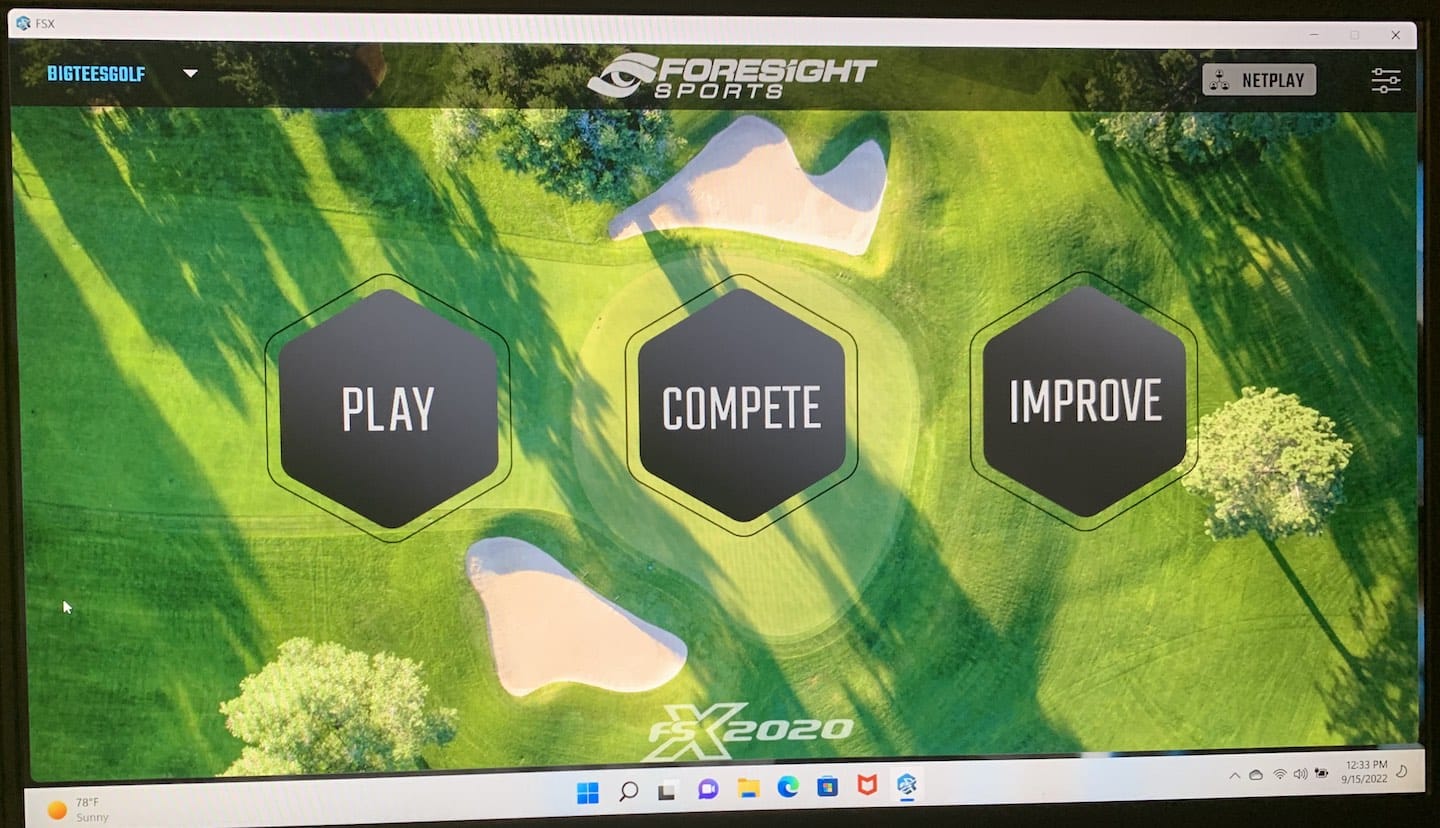 FSX Play
As an add-on, you can get FSX Play. Currently, it is around $500 and well worth it in my opinion. Although it has range features, the real value comes from the courses and general game play. FSX Play is the most realistic simulator I've ever seen.
There is a local bar/restaurant with high-end simulators in my town. They actually hold indoor golf leagues during the winter. The graphics and how smoothly FSX play works puts this place to shame.
Just like FSX 2020, you can hit on the range and compete in the virtual challenges, they are just much more appealing in FSX Play.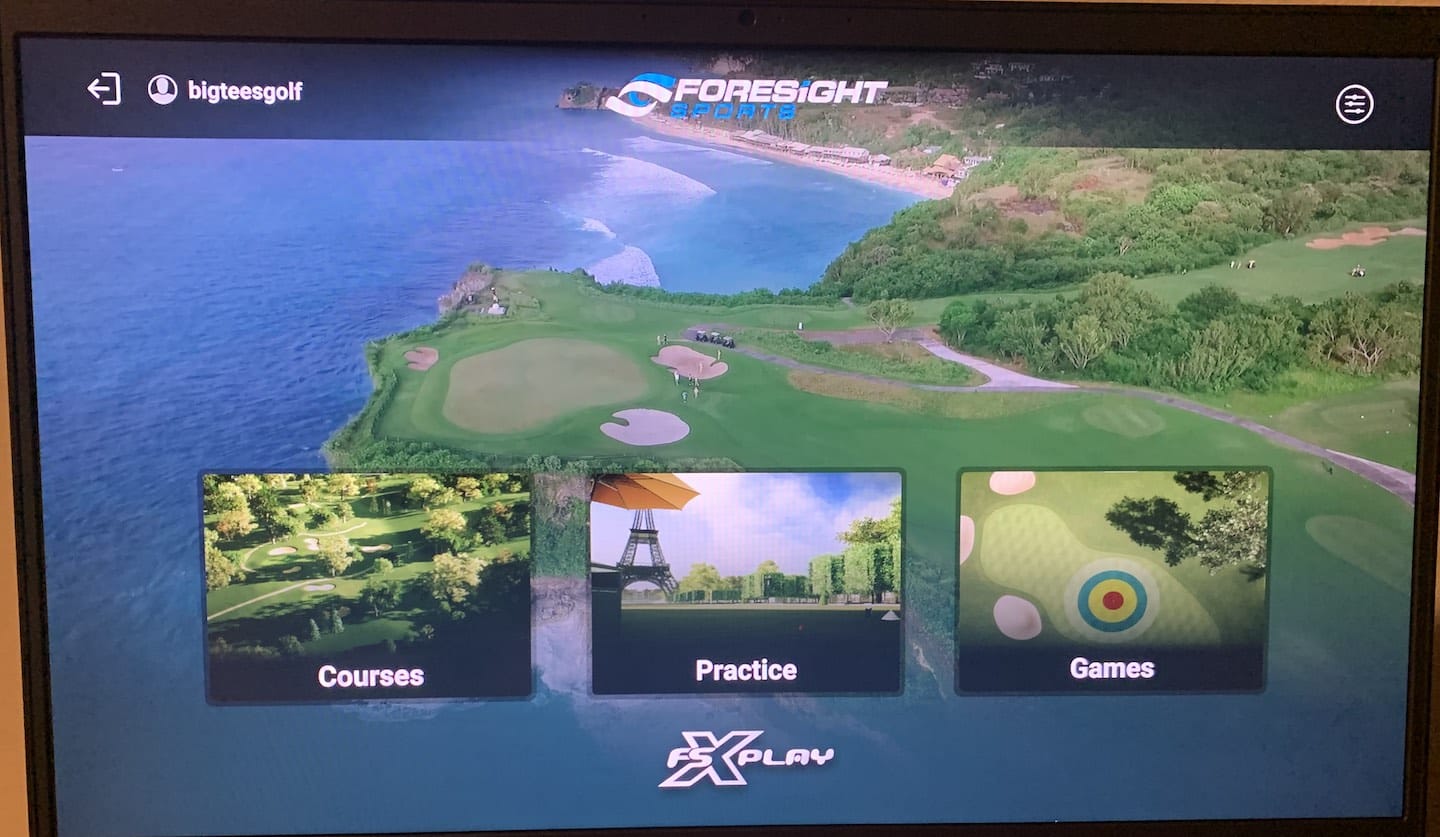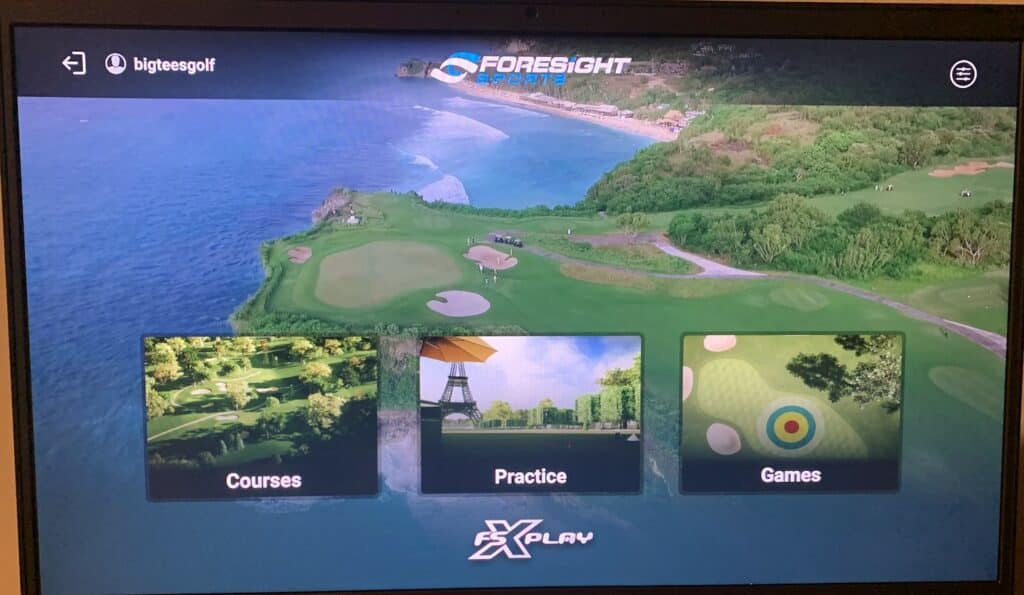 FSX Live
FSX Live is not another add-on, it is basically an account you create with Foresight Sports that allows you to compete in those challenges and keep track of your stats. You can save all of your stats without it, but FSX Live makes it much more convenient.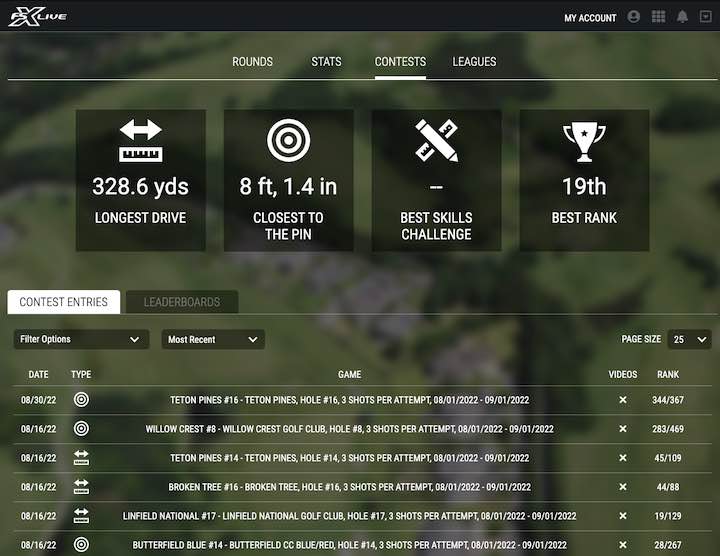 You can also see your history of rounds played, including a full scorecard with a breakdown of every single shot on each hole.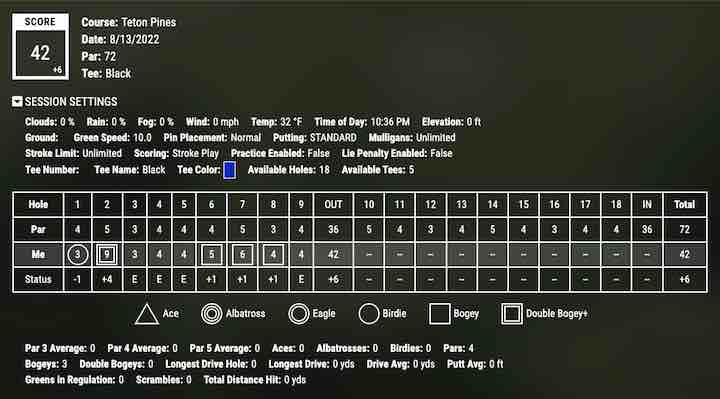 FSX Pro
FSX pro is a standalone software package, but it is free if you own FSX 2020. If you are going to purchase a GC3 launch monitor, they come with FSX 2020 out of the box. Some packages include additional bundles including more golf courses and FSX Play.
So what is FSX Pro – It is a much simpler way to allow others to use your GC3 launch monitor and have access to the stats. No need to setup FSX Live accounts, you can add new golfers in FSX Pro, do all of the hitting you want, then easily export and email a full report from their session.
If you are a golf coach, you'll likely get a ton of use out of this. If you are like me and let some friends come over to hit some balls, you'll also find this helpful. Early on I would fumble through trying to add a new golfer to separately track their shots. FSX Pro makes it much easier.
Course Play Options
Either within FSX Play or FSX 2020, you can play some pretty awesome golf courses. From the Old Course at St. Andrews to Pebble Beach, you have a ton of options. A new GC3 comes with a handful of courses. An upgrade to FSX Play usually adds some more. Then you need to individually purchase additional courses to add more.
I have not made any purchases, what I have "out of the box" has been plenty for me so far. I do see temporary discounts coming from Foresight Sports on a fairly regular basis. So if you want to add courses at some point, wait for one of the promotion bundles to save a few $'s.
Using The GC3 Launch Monitor and Setup
First Impressions
When you open the box for the first time, it was like opening a new iPhone. For you Android users out there, sorry…not sure I have a better analogy. Bottom line – The quality was obvious from the start.
It is only 5 pounds, but it is solid!
Getting it connected to wifi the first time was very straight forward, it walks you through the process right on the display. Then it prompts you for a firmware update if one is available. Again, very simple, just hit the button on the screen and it downloads and installs easily.
Software Setup
If you plan to use all of the simulation packages, you'll want to get all software set on your PC. The instructions with the GC3 tell you to fully charge the unit before using it, so plug it in and use the time waiting for charge to get your PC setup.
I'll admit, even for someone who is fairly savvy with software and IT in general, there were some confusing parts in this process. Hopefully these notes will help you!
FSX 2020 – Follow the Download and Installation Guide
FSX Play – Follow the Download and Installation Guide
Create an FSX Live Account
I know, those seem pretty obvious and straight forward…but when you get a GC3 and start reading through all of the instructions, it gets way more confusing than it needs to be.
When going through the setup process, you are going to need to add license keys for FSX 2020 and FSX Play. Those should have been shared with you in an email when you made the purchase.
After you get the software installed and setup, you are going to want to download all of the golf courses you have access to. This is one area where I particularly had issues and frustration. When downloading the courses for FSX Play, I could not get the download to initiate from the nice easy and convenient "Download" button within FSX Play.
Instead, I had to refer to the Download and Installation guide linked above. Scroll to the "Using FSX Play for the first time" section and individually download courses from there.
Once you have everything downloaded and licenses put in, just open the software and voila! Sometimes you have to wait a few seconds for the unit to connect, but it's ready to go as soon as it does. No need to do anything further.
If you have problems, Foresight has great support reps who can assist. I'll even help you through it myself – just send me an email or reach out on Twitter.
How I've Used it – Performance Analysis
I have used it for 3 things…and I am certainly not a pro golfer
Game Improvement
Indoor golf with a home simulator setup
Product testing
Right off the bat I wanted to play with this new toy, I wanted to see what all it had to offer. It was fun exploring the different ranges, software, and courses. But eventually I settled in and got into a routine.
Game Improvement
"They" say, amateur golfers do not know their true distances. I had a pretty good idea and I was not too far off, but I learned a ton in this area. For example, I only knew my "total" distance for each club (roughly). I did not know, or have a full appreciation for carry distance. That gets pretty important when you have a bunker to go over!
I have used the club fitting feature to get a true understanding of my club distances. And although I am doing it in a simulator, it has absolutely translated on the course.
Another area for distances are those intermediate shots that take less than a full swing. 50 yards for example. I have done a lot of practice on the simulator dialing in a 50 yard shot, 75 yards, and 100 yards. Effectively creating a wedge distance control matrix. On the course, I might face a 60 yard shot. I'll take two very quick practice swings. One would be my 50 yard shot as a reference, then I add a bit, ensuring it is less than my 75 yard shot.
The result – HUGE improvement on my approach shots. I am hitting the ball "pin high" way more than ever.
Then there is my driver. I am on a journey to compete in long drive competitions someday. I'll probably never reach pro status, and that's okay. But I'd love to go to some regional competitions and give it a shot. Let's just say, the club and ball data from the GC3 is CRITICAL and helping significantly on this front.
Indoor Golf and Home Simulator
I'll tell you what, it is pretty convenient and pretty awesome to have a home simulator setup! I've had a couple of friends over, we pick a course and just golf. Beer fridge is right around the corner, some chairs to sit in while you wait for your opponent to take their shot. No stress, just fun.
When I say no stress – imagine hitting a great drive off the tee and then chunking your approach shot. On the course, that might raise the blood pressure a bit. I've found in the sim, I don't stress over it nearly as much and I simply move on.
Golf season for my area is coming to an end within the next 2 months. You can call me a "fair weather golfer" if you want, but when it's 40 degrees outside and I want to play golf, I'll be in the sim!
Product Testing
I have been doing a ton of research on golf balls and have made several posts on my findings. One very positive example for a good friend of mine came with an added 10 yards of distance with his driver by simply switching golf balls.
From my research, I knew the Titleist Tour Speed ball would get some added distance. One of my friends was "using the range" in the simulator and hitting some incredibly consistent drives. After establishing a bit of a baseline, I tossed him a Tour Speed and said "hit this one". As if it were magic, the ball went about 10 yards further.
His response – Let's try that again! After hitting about 20 and seeing it was very consistent, with the same club speed and efficiency rating as his other ball, he was convinced. I get a message from him the next morning saying he has ordered a dozen and that was going to be his new ball going forward.
Accuracy
It's no accident Foresight Sports is one of the most trusted names at the highest levels of golf. I have messed around with some low-end launch monitors in the past, I'll just say, they sucked! There are a few things I have personally done with the GC3 that give me a very warm fuzzy this thing is accurate.
1. By doing the work in the simulator to dial in my intermediate distances (50/75/100 yards), I have gotten very comfortable knowing exactly what each of those feels like. I built that level of comfort in the simulator on the GC3. I can hit a 50 yard shot and as soon as it leaves the club, I can tell you within a couple of yards how far it is going. Again, all of that is based on hitting in the sim. But what I've found is – I am nailing those distances on the course!
2. I did a very limited test just to see how it would work outside. I setup 50 yards to the pin (checked with rangefinder) and started hitting balls. The GC3 screen would tell me how far the ball carried and rolled out, it was shocking how accurate it was.
3. With my driver, I am seeing distances on the sim that are absolutely consistent with results I am seeing on the course. I have gotten very familiar with how my 108 mph swing speed drive feels. The distance I see in the sim from that shot is incredibly consistent with what I see on the course.
GC3 Vs. The Competition
Bushnell Launch Pro Vs. GC3
It's hard to call the Bushnell Launch Pro competition, it's actually the same launch monitor as the GC3. They've just slapped a Bushnell sticker on the unit and limit the software features based on your level of subscription. In exchange for a lower up-front cost.
You can get the launch pro for about half the cost, but with WAY fewer features. OR you can pay a hefty annual subscription fee to unlock all of those features. This can be an appealing option to spend less up front and I was going to do that initially. That was until I figured out sellers routinely offer steep discounts and package deals on full simulator builds.
For me, it was worth the extra money to have a fully unlocked model, especially at the reduced price of the full sim package
GC3 Vs. GCQuad
The GCQuad is one of the best launch monitors on the market. It is used by a lot of PGA Tour Pro's and by some of the best club fitters in the industry. It comes with a hefty price tag however. Comparing the two would seem unreasonable, but it is actually a pretty compelling story for the loaded features of the GC3.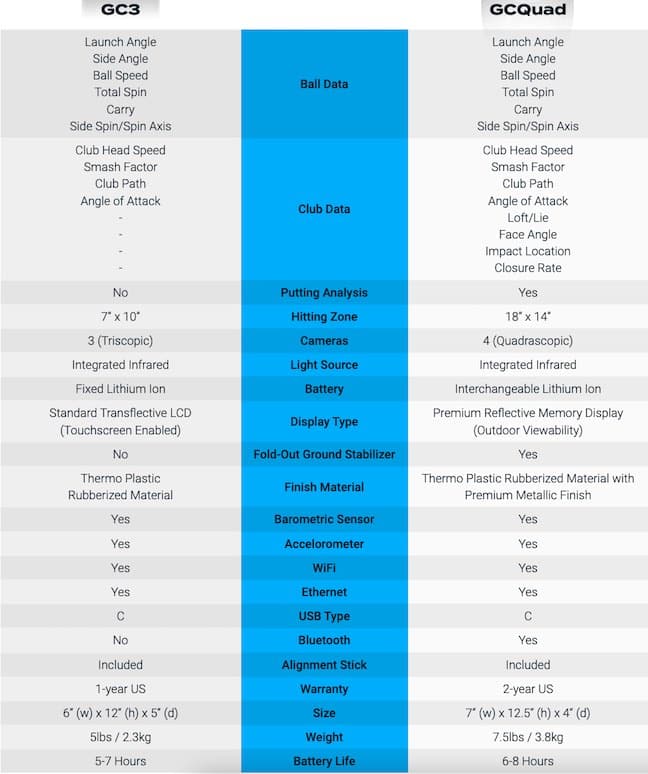 Lets look at some of those "missing" features with the GC3.
Face Angle – With club path data, and the ability to see your start line on the shot, you can get a really good idea of face angle without actually having the feature.
Impact Location – How about some foot spray or impact tape? Pretty simple to determine impact, just less convenient.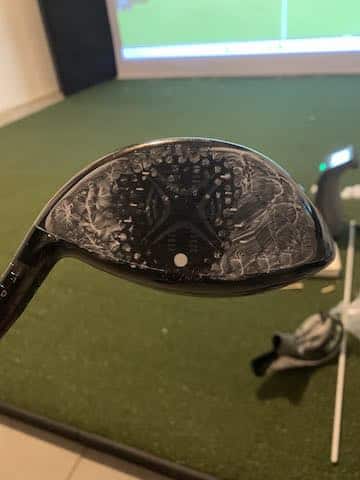 Closure Rate – This is the rotation speed of your club head measured from heel to toe. Honestly, if you are not a Tour Pro, you won't miss this feature.
Bluetooth – Who cares? Well, if you plan to use the FSX Pro software and load it onto an iPad for use on the course, you might miss this feature. Otherwise, you'll never even know it wasn't there.
Hitting Zone – With the GC3 you get about half the hitting area as the GCQuad. Honestly, not something I really even care about. Within a few minutes, you get used to where your ball needs to be. The only thing I can see being annoying here is if you are using the GC3 on grass at a range. If you're taking divots, you'll need to move your GC3 more often than you would the GCQuad to keep hitting off the grass. If you're on turf, no worries at all.
Other Premium Personal Launch Monitors
I really feel like the GC3 stands in a class of its own. As shown above, it is extremely feature rich when comparing to the GCQuad. Some of the missing features are fairly simple to figure out from other data points. And the majority of the other "missing" features are very advanced and not going to be something that would likely help an amateur golfer anyway.
There are certainly a ton of great reviews on the Skytrack and the Garmin R10, but again, I really don't think those even come close. But it comes with a price. If you are thinking about buying a GC3, you already know the price, I don't think you will be disappointed! I certainly wasn't.
Reasons to Buy
Accuracy is top notch
Can be used in tight spaces, no need for a 16 foot runway behind you like some radar launch monitors
Tons of features
Software is continuously updated, adding new simulator features as you go.
Durability
Industry leading brand with full support and customer service
Holds its value for resale if you decide to offload it at some point.
Reasons to Avoid
Price, although you get a ton of features, they are expensive!
Friends will come out of the woodwork trying to use your simulator (although this can be a good thing!)
Problems With The GC3
My biggest gripe with the GC3 is in its simulator software – all 3 of them, or was it 4? You know, the FSX Play, FSX 2020, FSX Live, FSX Pro. It took me several weeks to get used to them. Sometimes I open the wrong one for what I am trying to do, it is just annoying.
This also carries over into initial installation. It is confusing and can be a pain. But once you get through it, you're good to go. It is a one-time thing and you have the support to help if needed.
Another issue I routinely experience, NOT MATTER HOW MANY TIMES I CHECK THE BOX to automatically connect my GC3 when I open FSX 2020, I have to manually connect the unit. I'll open 2020 and I'll have a blinking light for the launch monitor indicating it is not connected. Clicking it opens a new box where it shows me "available" launch monitors. The list is ALWAYS empty…even though I rarely disconnect it from my PC. Simple enough to hit refresh, the GC3 magically appears and I hit connect. Again, it is just annoying. Once you start a session, I have had no issues.
Frequently Asked Questions
What is the difference between the GC3 and the Bushnell Launch Pro?
They are the same hardware and software. The GC3 is simply a fully unlocked version with all features enabled. The Launch Pro requires an annual subscription to unlock features. The higher you pay for the subscription, the more features are enabled.
Do I need to buy add-on software like FSX Play?
No, those are completely optional. Buying them simply enhances the overall experience with better graphics, but they are not necessary.
How many golf courses are available for the GC3?
As part of most packages, you will get a minimum of 10 courses. When you add FSX Play, you will get a base of 21. There are currently 86 courses compatible with FSX Play and over 200 courses to choose from for FSX 2020.
Can I putt with the GC3?
Yes, but you will not get nearly as much data as you would with the GCQuad and its putting software. The GC3 gives you a really good idea of direction and distance. You can also set your green speeds easily to simulate real conditions. Overall, it does a really good job of detecting putts in the simulator.
How realistic is it using the simulator?
It can be very realistic. There are many settings when you start a round that include added difficulty for a shot from the rough as an example. Lets say you are off the fairway and need to hit 100 yards out of the rough. With a lie penalty, you'll need to hit the ball much harder to account for the rough. 20% harder as an example. Same as the sand. But again, they are all settings. Just want to have a fun relaxing game of golf with some friends, you can put it on easy settings and have no penalty at all.
Now imagine you hit behind a tree and think its just a simulator and you'll go right through it. Nope, that can be very realistic!
Putting and short chip shots are the most non-realistic. It is very hard to get used to putting into a backdrop that is 12 feet in front of you when you are trying to putt 25 feet for example. And reading the green. There are indicators for you to follow, but it takes some getting used to. After a couple of rounds, you'll be set.
Is GC3 Compatible with GSPro?
Yes, you can play GSPro with your GC3, but it currently requires a free 3rd party app to connect.
You need the "Gamechanger" ad-on located here. You can watch the following YouTube video for full instructions. https://www.youtube.com/watch?v=v4osEeKXnT0
Where to Buy
The Indoor Golf Shop is a reputable vendor. They have everything you need for a full simulator build, or just a GC3. They always seem to have a deal going on, so check them out to see current offers. If you need to finance the purchase, they give you options.