Updated – Feb 25, 2023
On Feb 7, PXG released a new golf ball called "PXG Xtreme". I wasted no time and placed my order immediately! What can I say, I love their commercials. I'm going to give you an unbiased PXG golf balls review.
So, what was my first impression? Well, PXG compares their new balls to the ProV1, so I did the same. I put them to the test on the simulator. The PXGs definitely held their own! But there were some differences. More details and numbers below.
PXG Golf Balls Review
In this PXG Xtreme golf ball review, I'll explore how they stack up against some of the top golf balls on the market.
Based on a Golf Laboratories study comparing the ProV1 and ProV1x to the new PXG Xtreme, the PXG ball offered extremely similar numbers in terms of distance and ball speed.
They performed pretty well in my own testing. Based on the numbers I saw, the PXG got slightly less overall yardage, and a bit higher spin throughout the bag.
I put them up against the ProV1 and my usual gamer, the Vice Pro. What I found was both the ProV1 and the Vice Pro got more yards off the tee on average.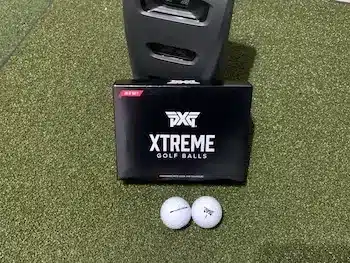 And when I look at my best shots from each ball, both the ProV1 and Vice performed slightly better than the PXG. Now, to be clear, I still think the PXG is a good ball for the price compared to the ProV1.
But what about comparing to other, similarly priced 3-piece golf balls? Sorry PXG, I'll be sticking with my Vice Pro. I can get them for a few bucks less than the PXGs when buying in bulk, and the overall performance is slightly better.
Don't get me wrong, the PXGs are still a really good golf ball. If you are partial to the PXG brand, go for it! You'll get pretty similar performance to a ProV1. If you are not tied to the brand however, I think there are better options out there for a lower price – check out my review on Vice Golf Balls
It's interesting to look at the numbers on their website, but after putting them to the test on my own launch monitor, it was close, but not as close as I had hoped.
Quick Facts
338 Dimple design, which is found on many of the premium Bridgestone golf balls. 3-piece construction with a single urethane cover. The PXG ball is marketed as a soft feel ball, and it definitely had a nice feel to it! As with many golf balls, we also see a nice thick alignment mark on the ball.
One thing I noticed on the alignment mark that you don't normally see however, is a set of crosshairs. I think some golfers will like that, as it will add a slight visual to help you ensure it's lined up properly, but most really won't notice it much at all. I believe the crosshairs are more of a nod to the military community, as owner and founder Bob Parsons served in the Marine Corps and fought in Vietnam. – Thank you for your service, Bob!
As a fellow vet, I can appreciate those small gestures PXG has made when naming their clubs, and now seemingly on the ball markings.
PROS
High performance ball at a discount
Nice soft feel
Low Spin off the Tee
Really Good Greenside Spin
CONS
Price is a bit higher than other "off brand" manufacturers that offer better performance
Limited buying options, only available at PXG
Slightly less distance than competitors
ProV1 vs PXG Xtreme – & – Vice Pro vs PXG Xtreme
The Golf Laboratories study putting the new Xtreme Golf Balls against the ProV1 and ProV1x is the only known "official" comparison to date. The PXG performed wonderfully in that test, but what about tests from consumers? Well, here are some numbers from my own testing! PXG vs Pro V1…
| | | | | | |
| --- | --- | --- | --- | --- | --- |
| | Ball Speed | Spin | Carry | Total Distance | Peak Height |
| PXG Xtreme | 163.2 | 2010 | 264.9 | 295.5 | 19 Yards |
| ProV1 | 161.9 | 1917 | 271.9 | 300.7 | 22.7 Yards |
| Vice Pro | 161.7 | 1788 | 277.1 | 306.1 | 24.6 Yards |
110 MPH Swing Speed Average
| | | | | | |
| --- | --- | --- | --- | --- | --- |
| | Ball Speed | Spin | Carry | Total Distance | Peak Height |
| PXG Xtreme | 110.1 | 5512 | 152.3 | 165 | 20 Yards |
| ProV1 | 110 | 4973 | 151.8 | 161.5 | 19.1 Yards |
| Vice Pro | 110.3 | 5213 | 152.7 | 162.1 | 20.8 Yards |
87 MPH Swing Speed Average
| | | |
| --- | --- | --- |
| | Average Spin | Highest Spin |
| PXG Xtreme | 6658 | 8811 |
| ProV1 | 6336 | 8180 |
| Vice Pro | 6410 | 8209 |
As far as greenside spin goes with a wedge, the PXG beat both the ProV1 and my Vice Pro. I also found the PXG goes just a bit further with a mid-iron. Overall, the performance was fairly similar with irons, with the PXG getting a little more spin through the entire bag.
I would take the extra spin with my mid and short irons! But, distance off the tee is where the PXG comes up just a bit short. If you are looking for more distance, check out my article on the best golf balls for distance!
As I was hitting them, I felt like I was getting overall similar performance. I had some great shots with the PXG! But when I look at the actual data, there seems to be a clear pattern with the PXG falling a bit short in distance off the tee.
Side-By-Side Comparison of My Best Tee Shots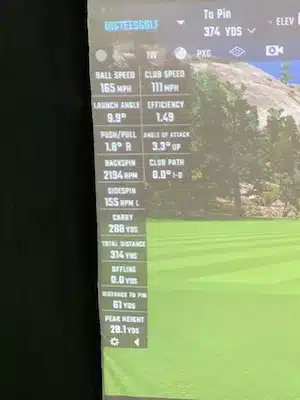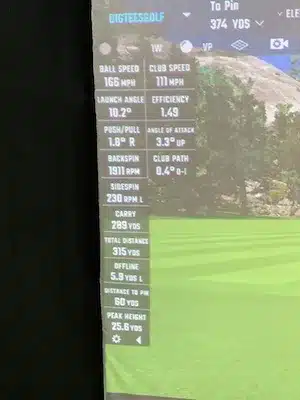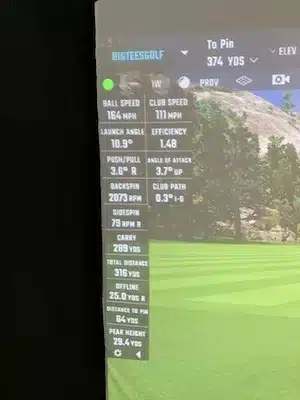 At first glance, performance is nearly identical when looking at my best tee shots with the PXG, Vice Pro, and ProV1. However, if you dig into the numbers a bit more, you'll see that I hit the PXG perfectly on line. I truly could not have hit that ball any better!
The ProV1 went a couple of yards further, but I was also 25 yards offline with it. Imagine if I had hit it straight down the middle, it probably would have ended up a solid 6 or 8 yards further. The Vice Pro wasn't far off line, but I hit this one slightly lower on the club face, reducing its trajectory and likely cutting a couple of yards of distance.
Final Thoughts
Bottom line – The PXG performs really well, but on average, it came up just a bit shorter off the tee! Short game and mid-iron spin was higher with the PXG, so you'll get some great greenside control!
Overall I think they are a high quality ball and a very welcome addition to the growing list of manufacturers offering lower cost 3-piece golf balls. They are a great alternative to the major brands. But for me, I'll stick to my Vice Pro.
If you like this PXG golf balls review and you'd like to be notified when new golf ball reviews are published, follow me on Twitter or signup below!