Last Updated – Dec 16, 2022
The best cheap golf balls on the market have been around for a while, they have been tested, and put through the wringer by many golfers!
Spoiler alert – Kirkland sucks, and so do refurbished balls! So stay away from them.
Whether you're looking for the absolute cheapest golf ball on the market or the equivalent of premium golf balls at a lower price, I've got you covered!
Here are the best cheap golf balls in every category
Best Price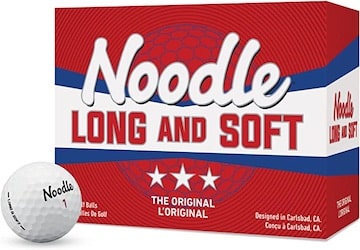 TaylorMade Noodle
The Noodle, Long & Soft! I've watched someone win a long drive with this ball!
Best Overall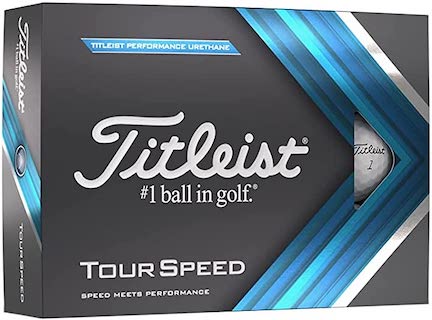 Titleist Tour Speed
Great distance no matter what your swing speed is! Price is very reasonable and soft feel.
Best Value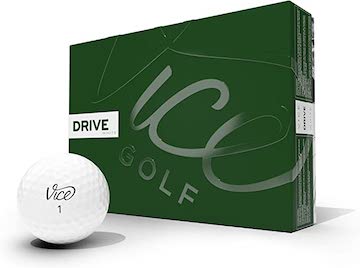 Vice Drive
A direct-to-consumer manufacturer with great prices and amazing quality!
I have personally used all 3 of the golf balls mentioned above. Not only have I used them on the golf course, but I've also put them through the simulator. If you are looking for the most inexpensive golf ball on the market, look no further than the Noodle!
Coming in at around $1 per ball, you just can't beat the price. They are typically sold in boxes with 2-dozen balls.
You may have noticed that I said "Kirkland golf balls suck" in my intro. Why? Well, I put them on the launch monitor, and I absolutely cannot get them to travel nearly as far as the Noodle, Tour Speed, Vice Pro, Vice Drive, Vice Tour, ProV1, Tour Response…the list goes on and on!
Here is my full list of the best cheap golf balls.
TaylorMade Noodle
I bet you didn't even know the Noodle was a TaylorMade ball! Ok, maybe you did. But did you know that one of the inventors of the Noodle, Dean Snell, also had a hand in creating the ProV1?
The Noodle performs! It is very soft and gets great distance off the tee. A friend of mine actually won a long drive at a scramble event with a Noodle. This was years ago, but he definitely hit it well over 320 yards!
I've used the Noodle for years and honestly, I am not sure why I don't anymore. I went on this crazy quest a couple of years ago to try every golf ball under the sun. I've found some pretty good golf balls during that time. Either way, for the price, you just can't beat it. That's why it's number 1 on my "best cheap golf balls" list!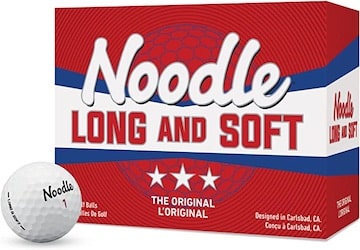 Quick Facts
Very low compression rating and a 342 dimple pattern. Offers short game spin and control around the greens. Consumer reviews give this ball a 4.7 out of 5 stars with over 6,000 reviews!
TaylorMade spends a whopping $0 in marketing the Noodle. They keep the cost extremely low, especially for a new golf ball.
PROS
PRICE!
Feel
Did I mention the price? ~$1/ball (For a golf ball, that's cheap!)
Durability
Decent greenside spin
Distance
CONS
You won't get quite as much spin as premium golf balls
You'll be playing with a "long and soft noodle"
The Noodle recently fell off of the USGA compliant golf ball list, so it cannot be used in official events
Vice Drive Golf Ball
Vice Golf is one of my favorite manufacturers, hands down. They are a direct-to-consumer company and don't spend millions of dollars sponsoring PGA Tour players. This allows them to pass on some lower costs to us.
Vice golf balls are very high quality, they get some really good distance and are very durable. I have personally tried every single one of their golf balls, both on the course and on the simulator to see how they perform.
Here is a full review of Vice Golf Balls!
They do pretty well! I have teed up a Vice Drive, right after hitting a ProV1. Fortunately, I hit both very solid, they were right next to each other in the fairway. So when it comes to distance, you're not missing out!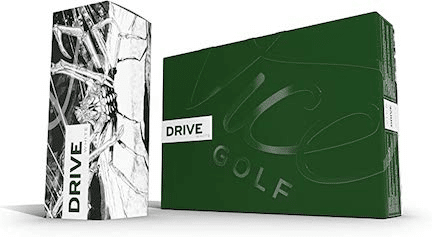 Quick Facts
The Vice Drive is a soft ball that certainly rivals premium golf balls at a fraction of the cost. It is a 2 piece ball and offers a 312 dimple pattern. In an independent study conducted by Golf laboratories, the Vice Drive significantly outperformed the Titleist Tour Soft golf ball.
PROS
Durability
Distance
Price
CONS
You won't get quite as much spin around the greens
Titleist Tour Speed
This golf ball was built for speed and offers exceptional distance for players of all swing speeds. The Tour Speed will generate a ton of ball speed. If you are looking for maximum distance, this is the one!
I have personally used this ball quite a bit and usually keep a few in my bag for when I'm trying to get a little extra distance off the tee. I have also recommended this ball to a couple of my "Senior" friends and they immediately saw an extra 10 yards of distance off the tee.
You'll pay a few more bucks for this ball, but if you are looking for a premium golf ball on a budget, this is a winner! This ball performs, in every swing speed category, and was featured in my recommendations for the best distance golf balls.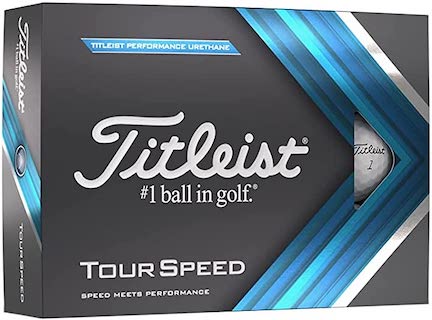 Quick Facts
346 quadrilateral dipyramid dimple design – That's a mouthful! 3-piece construction with a proprietary Titleist Urethane cover. Titleist is definitely doing some marketing with that language, but I wouldn't expect anything else from a top brand.
PROS
Great distance at all swing speeds
Great greenside spin
Soft Feel
CONS
Pricing has been known to fluctuate due to supply issues (if you see them for $20/dozen, scoop them up!)
Vice Tour
The Vice Tour golf ball is a few bucks more than its little brother, the Vice Drive. But it is still an inexpensive option. Vice produces some really high-quality golf balls that compete with premium golf ball manufacturers.
I have also used the Vice Tour golf ball and found them to once again be just as long as a ProV1. I found them to be very durable and it is specifically designed for golfers of all swing speeds.
The Tour also gets some great reviews on Amazon, which I have found to be consistent with my personal experience. They have 4.7 stars from over 2,400 reviews. Players with slower swing speeds will get a lot of extra distance off the tee.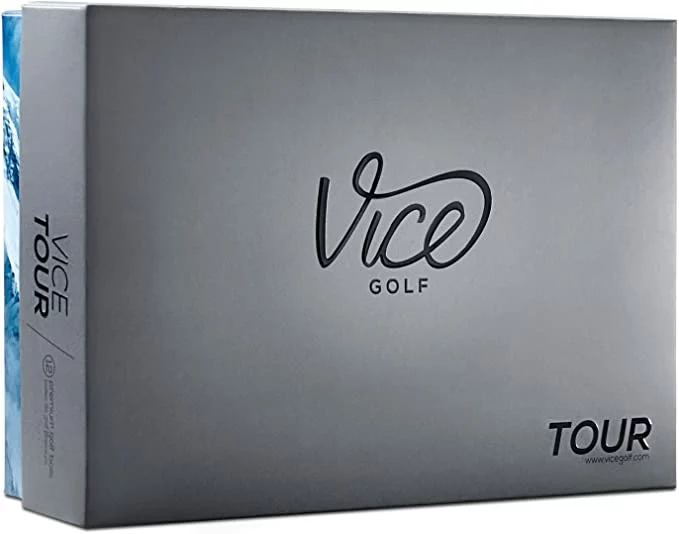 Quick Facts
3-piece construction with a 312 dimple pattern. The Vice Tour was compared to the Tour Speed in an independent study from Golf Laboratories in 2021, that test showed the Vice Tour got a little more distance. The 2022 Tour Speed came back a bit better the following year, but we are talking about feet at this point, not yards.
PROS
Great distance at all swing speeds
Good greenside spin
Durable
Price
CONS
It is a firmer golf ball, which some may not like
Titleist TruFeel
Titleist TruFeel golf balls are another attempt for Titleist to meet the demands of golfers looking for cheaper golf balls. Players with moderate swing speeds will find this ball feels great and gets good distance.
I have only used this ball on the course once, and my first impression was that it felt great. No surprise that this one also gets 4.7 stars from over 8,500 reviews on Amazon.
It is certainly not at the top of the list when it comes to affordable golf balls, but it's in the middle of the pack and a great option for those who feel more comfortable playing a golf ball from one of the most trusted names in golf.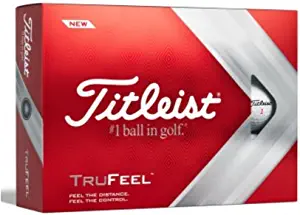 Related – Titleist Trufeel Golf Balls Review
Quick Facts
The TruFeel is a 2-piece construction with a single-piece 376 dimple cover. It has a low spin rating for both driver and short irons. You can get the TruFeel golf balls in white, yellow, and matte red.
PROS
Great feel around the greens
Great feel in general
Durable
Good distance off the tee
CONS
You'll sacrifice a little control around the greens
Vice Pro
I would not call this one a cheap golf ball. But when it comes to premium performance at a lower price, this ball delivers. This is the ball I play regularly and have tons of data on the launch monitor comparing it to several premium golf balls.
The Vice Pro consistently beats them and costs much less.
I did a full comparison of the Vice Pro and the ProV1, the Vice Pro wins in my book, and that's before you factor in the lower price.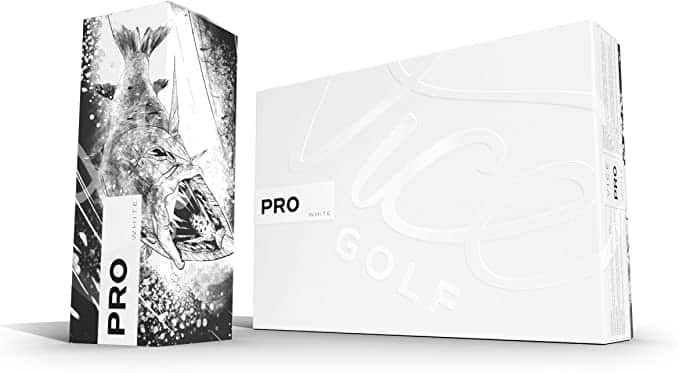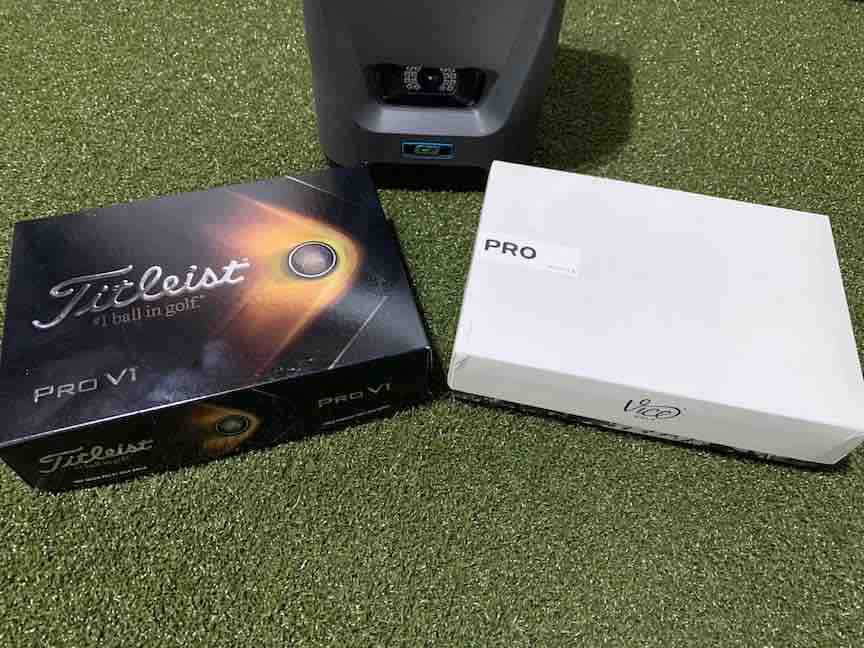 Quick Facts
3-piece construction with a 318 large dimple pattern. It is a soft golf ball, designed for players with medium to high swing speeds (95-110 mph)
PROS
Outperforms the ProV1
Great spin around the greens
Good distance off the tee
Durable
CONS
The price is much higher than other golf balls on this list
Srixon Soft Feel
The Srixon soft feel golf ball is one of the cheaper golf balls on the market. It gets a ton of great reviews, with 4.7 stars on over 3,000 reviews. Srixon compares this ball to the Callaway supersoft and delivers slightly more distance.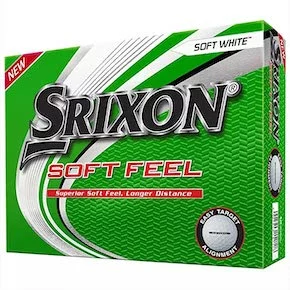 Quick Facts
2-piece construction with a 338 dimple pattern and ionomer cover. It is a soft golf ball, designed for maximum distance. In distance testing performed against the Callaway supersoft golf ball, Titleist TruSoft, and Bridgestone e12 soft, the Srixon soft feel has a slight edge against all 3.
PROS
Price
Soft Feel
Decent distance off the tee
CONS
You'll lose some performance around the greens
Don't Play With Other People's Balls – OPB's
One of the cheapest ways to acquire golf balls is to simply pick up others. You hit into the woods, come out with a half dozen balls, sweet! How about pulling balls out of the pond?
If you are going to do either of these, beware. You can certainly get lucky with a good ball from time to time, but that's not always the case.
It is a well-known fact that golf balls do get waterlogged and it can significantly affect performance. If you don't care and you are just looking to go out and have some fun while you "happen" to be golfing, I can certainly understand. Invest in a good retriever and it will pay for itself in no time.
Water Logged?
Yes, water logged! You can find a ton of studies that prove this. USGA specifications state a golf ball can weigh no more than 1.62 ounces. I have a bucket full of balls pulled from the pond. Nearly every single ball weighs over 1.62 ounces. Not by much, but it can absolutely effect performance, especially distance. Here is a brand new Vice ball being weighed, followed by some random pond balls.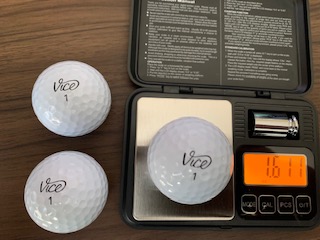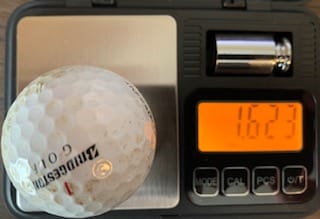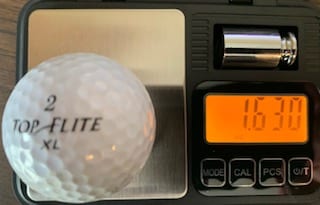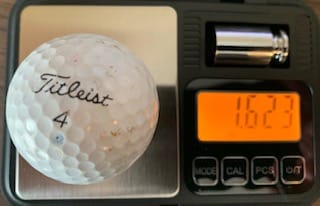 Again, if you don't mind the slight performance hit because you are a social golfer and just want to have some fun, I can totally understand.
But if you are looking for the best when it comes to cheap golf balls, I would stay away from pond balls or recycled balls.
Here is a recycled ball that came in a batch I ordered a while back. How does this happen? Hopefully you can see it from the pictures, one side of the ball looks like it was melted, or it was painted and someone overdid it.
These are the types of problems you are going to run into buying recycled balls. Sometimes they are great, but there always seem to be some that belong in the trash.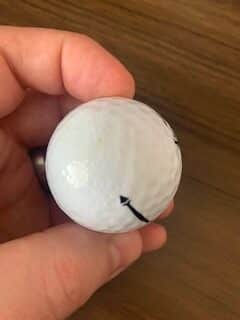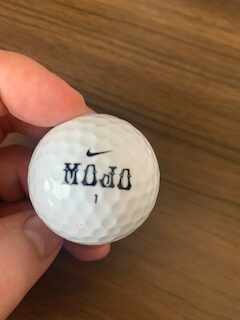 Cheap Recycled Golf Balls
Okay, so I've spent a lot of time highlighting reasons to stay away from recycled balls and I stand by that. Mainly for comparison purposes, here are some ProV1 reload balls. These are still coming in over $1 per ball.
Titleist ProV1 – Reload
The gold standard for years in golf balls, the ProV1. You can typically pick up 2 dozen of these balls for less than half of what you'd pay for a dozen brand new.
But my experience with these balls is terribly inconsistent. I've had them where the paint is worn off. I have had them where the feel of the ball is nowhere near what a ProV1 actually feels like.
Almost as if it is a different ball altogether, but with ProV1 markings. I have also had some that seem to be perfect. The problem is, you are getting a "mixed bag".
Some of the balls are basically going to be junk, so your price isn't necessarily as good as it seemed when you make the purchase. Some people have a good experience with these, but I think it is luck of the draw.
If you are going to purchase used golf balls, here is a list of the best places to look.
Final Thoughts
Kirkland balls? Why didn't Kirkland balls make this list? Well, they are certainly one of the cheaper balls on the market and buying in bulk is easy. In my experience, Vice and Noodle balls perform well and are very consistent.
Historically, Kirkland balls have not compared well to other name-brand manufacturers, including Vice and TaylorMade. Kirkland has recently updated their balls and I've heard some positive reviews on those. They are certainly an option that you may strongly consider. I actually tested them out in the sim recently, and I was disappointed.
Side-by-side with the Noodle – Noodle wins!
Want a chance to win some free golf balls? Follow me on Twitter.
Thanks for reading, and best of luck on the course!
Conclusion
Buy New and be Consistent! New does not always mean expensive, especially with the Noodle or Vice. The Vice is a bit more expensive, but I think it is also a bit more durable. If you are going to buy the Vice balls, consider going directly to the Vice Golf site and buying in bulk. They offer a discount when you buy 3 dozen or more.
Their best discount is at 5 dozen or more. They are cheaper than the ProV1 reloads, and every ball in the box is going to be high quality. Same with the Noodle!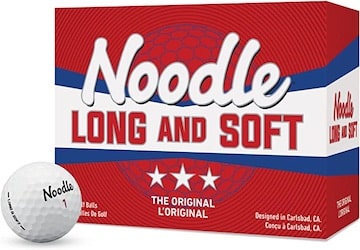 Cheapest Golf Ball – TaylorMade Noodle
The Noodle performs! It is very soft and gets great distance off the tee. A friend of mine actually won a long drive at a scramble event with a Noodle.
Best of all, it's Cheap! Two dozen for about $1 per ball.