The Titleist Trufeel golf ball is definitely one to consider if you are looking for a relatively inexpensive golf ball. I put them to the test on the simulator and I'm going to give you my full Titleist Trufeel golf balls review.
I've hit thousands of golf balls in the simulator, enough to know what to expect from the numbers, the Titleist Trufeel definitely had less spin off the tee. This will help get you some extra distance and can help a bit with accuracy. Less spin = less side spin, so those hooks and slices will be a bit less pronounced.
You can pick a dozen balls up for about $25 on Amazon. They have a nice soft feel and get good distance off the tee. However, you will lose greenside control with the low spin.
Titleist Trufeel Golf Ball Review
First of all, the Trufeel golf ball felt great, it was nice and soft and felt good with my wedges and putter.
This might be the lowest-spin golf ball I've tested off the tee. Anything at 2,000 or under is good, my average with the Titleist trufeel ball was around 1,500. That is about as low as it gets when it comes to spin off the tee, especially for an average.
The benefits of its low spin are added distance and accuracy. Accuracy? Yes, accuracy! It won't completely correct a slice or hook, but because it is a lower-spinning ball, it will also generate less side spin.
Interestingly, ball speed from the Trufeel golf ball was lacking. It was consistently coming in about 5 mph less than what you'd see with a premium golf ball. It was also generating less speed than one of its biggest competitors, the Callaway Supersoft.
Although the Trufeel golf ball generated less ball speed, it also had less spin, and its trajectory was a bit higher, resulting in a little more distance than the Supersoft.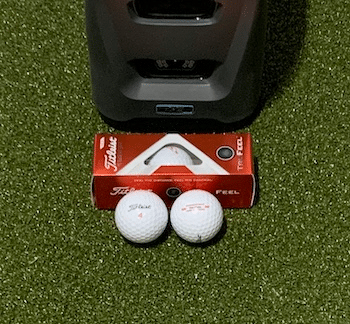 Quick Facts
The Titleist Trufeel is made with 2 piece construction and a 1-piece cover. They are rated by the USGA as low spin with a driver and low spin with short irons. They have a 376 dimple design pattern and it just may be the softest Titleist golf ball. Their marketing claims "ultra soft feel", which I'd have to agree with!
You can get the Titleist Trufeel in white, red, and yellow.
They are currently rated 4.7 out of 5 stars on Amazon from over 2,100 reviews, not too bad.
PROS
Very soft feel
Good Distance
Improved accuracy due to its low spin
CONS
Low spin around the greens resulting in less control
Less distance off the tee for higher swing speeds
Who Should Use The Titleist Trufeel Golf Ball
Casual golfers, beginners, high handicappers, and golfers with slower swing speeds (100 mph or less) should consider using the Trufeel golf ball.
Although, if you fall into one of these categories and you have a higher swing speed (100+ mph), you may want to consider distance versus accuracy.
Not sure what your swing speed is? – Calculate your swing speed here.
If you have accuracy troubles off the tee, the low spin characteristics of this ball will help reduce your misses. If you are slicing or hooking, this ball will stay a bit more online for you because it will not generate nearly as much side-spin.
It's not going to totally correct a hook or slice, but it can certainly help! Something to consider. You're far better off having a playable ball with a little less distance than you are to be hitting out of the trees!
Related – Best Golf Balls for Distance
Callaway Supersoft Vs Titleist Trufeel
Here is a side-by-side comparison of the Callaway Supersoft and Titleist Trufeel. The Supersoft is probably the softest ball on the planet and is in the same price range as the Titleist Trufeel golf ball. They are both two-piece golf balls and worth comparing.
Related – Callaway Supersoft golf ball review
I've also shared numbers from the Chrome Soft just for comparison, but keep in mind the Chrome Soft is a premium ball and it should absolutely outperform the Titleist Trufeel.
| | | | | | |
| --- | --- | --- | --- | --- | --- |
| | Ball Speed | Spin | Carry | Total Distance | Peak Height |
| Supersoft | 157.6 | 1658 | 253.1 | 285.9 | 19.2 Yards |
| Chrome Soft | 159.1 | 2068 | 272.5 | 298.3 | 27.4 Yards |
| Titleist TruFeel | 153.9 | 1522 | 260.4 | 292.6 | 23.1 Yards |
109 MPH Swing Speed Average
| | | | | | |
| --- | --- | --- | --- | --- | --- |
| | Ball Speed | Spin | Carry | Total Distance | Peak Height |
| Supersoft | 116.6 | 4881 | 168.1 | 179 | 26.2 Yards |
| Chrome Soft | 112.8 | 4762 | 162.1 | 176.6 | 23.8 Yards |
| Titleist TruFeel | 110.7 | 5244 | 156.5 | 171.9 | 21.4 Yards |
87 MPH Swing Speed Average
| | | |
| --- | --- | --- |
| | Average Spin | Highest Spin |
| Supersoft | 7204 | 7911 |
| Chrome Soft | 7779 | 9089 |
| Titleist TruFeel | 5549 | 7862 |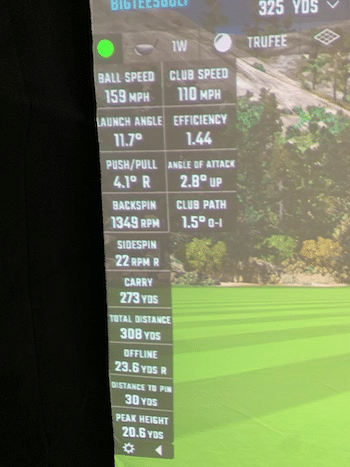 This was my best hit on the launch monitor with the Titleist Trufeel golf ball. I was consistently getting these to go a little over 290. It was only when I caught one with a really low spin number that I'd get it over 300.
I guess the question becomes, are you willing to pay double for about 10 yards of distance in a premium ball? And 10 yards only if your swing speed is around 110. There would be less of a gap with slower swing speeds.
I currently use the Vice Pro, which gives me premium ball performance at a lower price – I'll be sticking to my Vice Pro!
Final Thoughts
The Titleist Trufeel golf ball is definitely worth considering if you are looking for a cheaper golf ball that will perform well. Beginners, higher handicappers, and even mid-handicappers will like this golf ball. You'll love its soft feel and low spin off the tee.
Related – Top budget-friendly golf balls & Best Golf Balls for Beginners
If you like this Titleist Trufeel golf ball review and would like to be notified when new golf ball reviews are published, follow me on Twitter or signup below!