Updated – Feb 28, 2023
Pop quiz hot shot! What is the softest golf ball on the planet? Yes, the Supersoft! Unreal how soft this thing is. I put them to the test on the simulator and I'm going to give you my full Callaway Supersoft golf balls review.
Not only is it the softest golf ball I've ever hit, it actually performs really well, especially for the price. You can get these for about $25 on Amazon, which is why I was a bit surprised with their performance.
It's not all unicorns and rainbows though, there were a couple of drawbacks, but again, at this price point, these are some great golf balls!
Callaway Supersoft Golf Balls Review
I've hit thousands of golf balls in the simulator, enough to know what to expect from the numbers, but these had me double-checking things a couple of times.
They got more distance with mid and long irons than I'm used to, but they also get less distance off the tee. They were really low spin off the tee, but the ball speed was much lower than what I would have expected. The two offset each other a bit, but overall you'll lose a few yards off the tee if you have a higher swing speed.
I also noticed a little less spin with my wedges, but not a ton. They still spun more than most 2-piece golf balls do around the greens, but certainly not as much as a premium golf ball will.
Did I mention feel? It was like hitting a dollop of butter with my wedges. This is by far the softest golf ball I've ever hit. I also noticed the softness in my long irons, but as I went further up the stack and to my driver, it became less apparent. Still had a very soft feel, but not as big of a noticeable difference to other soft golf balls.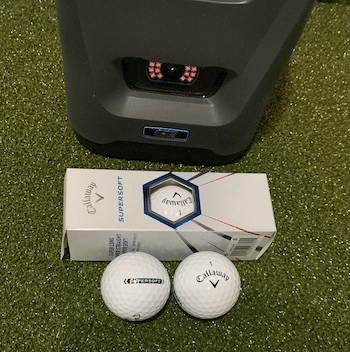 All things considered, I definitely think the Callaway Supersoft golf ball is a great option for players looking for a quality ball at a discount.
Quick Facts
The Callaway Supersoft golf balls are made with 2 piece construction and a single hybrid cover. They are rated by the USGA as Low spin with driver and medium spin with short irons. They have a 332 hexagon pattern dimple design and a soft compression core.
You can get the Callaway Supersoft balls in green, orange, pink, red, yellow, and white.
Perhaps one of the most compelling facts about the Callaway Supersoft golf balls is the reviews by consumers. They are currently rated 4.8 out of 5 stars on Amazon from over 21,000 reviews! That is one of the highest ratings you'll find on golf balls from consumers.
PROS
Price
Extremely soft feel
Improved accuracy due to its low spin
CONS
Higher swing speed golfers will lose distance off the tee
Less greenside spin than premium golf balls
Who Should Use The Callaway Supersoft Golf Balls
Beginner golfers, higher handicappers, slow swing speed golfers, and even a lot of mid-handicappers would love these golf balls.
Although, if you fall into one of these categories and you have a higher swing speed, you may want to consider – distance versus accuracy
Not sure what your swing speed is? – Calculate your swing speed here.
If you have accuracy troubles off the tee, the low spin characteristics of this ball will help reduce your misses. If you are slicing or hooking, this ball will stay a bit more online for you because it will not generate nearly as much side-spin.
It's not going to totally correct a hook or slice, but it can certainly help! Something to consider. You're far better off having a playable ball with a little less distance than you are to be hitting out of opposing fairways or OB!
Related – Best Golf Balls for Distance
Callaway Supersoft Vs. Callaway Chrome Soft
I'll acknowledge right up front, it isn't comparing apples to apples putting these two balls against each other. The Chrome Soft is a premium golf ball and I would expect superior performance from it.
However, if you are interested in numbers, and Callaway golf balls, here you go! I have also added in the Titleist TruFeel for comparison, the TruFeel is more of an apples to apples comparison.
| | | | | | |
| --- | --- | --- | --- | --- | --- |
| | Ball Speed | Spin | Carry | Total Distance | Peak Height |
| Supersoft | 157.6 | 1658 | 253.1 | 285.9 | 19.2 Yards |
| Chrome Soft | 159.1 | 2068 | 272.5 | 298.3 | 27.4 Yards |
| Titleist TruFeel | 153.9 | 1522 | 260.4 | 292.6 | 23.1 Yards |
109 MPH Swing Speed Average
| | | | | | |
| --- | --- | --- | --- | --- | --- |
| | Ball Speed | Spin | Carry | Total Distance | Peak Height |
| Supersoft | 116.6 | 4881 | 168.1 | 179 | 26.2 Yards |
| Chrome Soft | 112.8 | 4762 | 162.1 | 176.6 | 23.8 Yards |
| Titleist TruFeel | 110.7 | 5244 | 156.5 | 171.9 | 21.4 Yards |
87 MPH Swing Speed Average
| | | |
| --- | --- | --- |
| | Average Spin | Highest Spin |
| Supersoft | 7204 | 7911 |
| Chrome Soft | 7779 | 9089 |
| Titleist TruFeel | 5549 | 7862 |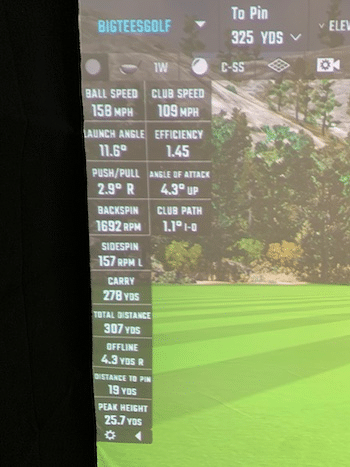 This was my best hit on the launch monitor with the Callaway supersoft balls. I'll point out that it did go over 300 yards, but I only got a couple of these to go over 300 in my session.
This is also an area where I kept double checking. I was surprised they were not consistently getting more distance. So I'd throw a ProV1 down and hit it a couple of times, easily hitting the 300+ yard mark.
I thought it was me, but in this case I can confidently say it was the golf ball. Not all of them, but on average, they really just didn't go as far for me.
Another thing I noticed was ball speed. Overall, it was definitely less than what I would have expected. And no matter how well I hit the ball on my driver, I could not get my efficiency (aka Smash Factor) up beyond about 1.46. This was really due to ball speed lacking.
Final Thoughts
The Callaway Supersoft golf balls are definitely worth considering if you are a mid or higher handicap golfer. Especially if you have a slower swing speed, or problems with accuracy.
If you have a faster swing speed, consider whether the loss of distance off the tee would be worth a bit more accuracy.
If you are a lower handicapper and looking for a cheap ball, this is certainly a great option! You'll lose a bit of control around the greens, but it's nothing you cannot get used to.
Overall, its soft feel is amazing! Especially off of the putter and wedges. These are some of the most popular golf balls on the market for a reason.
If you like this Supersoft golf ball review and would like to be notified when new golf ball reviews are published, follow me on Twitter or signup below!