My new handicap, after playing a handful of rounds came in at 9.3. This is down from the 16 I started with at the beginning of last season and the 11.2 that I ended the season with.
Honestly, I am struggling to be happy with that and not beat myself up too bad. I feel like it should be much better. I think it will get there, but its going to take a bit more time and consistency. There have been a couple of very noticeable things that I think are going to sort of take care of themselves.
Going from the Sim to real course was really weird at first
I need to eliminate the blowup holes
I need to work harder on the mental part of the game
It's not all bad though, there are some really positive things to share coming out of my first few rounds.
My driving is absolutely AMAZING compared to what it was
I am making a lot of pars
My distances with every club have increased significantly
Sim to Real Course After Months of Winter Golf
The first time I stepped out on a real golf course after being exclusively in the simulator for about 4 months was absolutely crazy. When I would go to address the ball, it felt incredibly odd.
Dealing with uneven ground, odd lies, and turf that was not "what I was used to" was really hard for the first few holes. But this wore off about halfway through my first round. The 2nd time I went out, it only took about 5 or 6 holes to normalize. The 3rd round, it only took a couple of holes. Now I am pretty much back to "normal".
I think it definitely effected my scores in those early rounds, but nothing too crazy. It just felt incredibly odd and I'd say – If you get a sim, or a hitting net, make sure you mix it up!
Eliminating Blowup Holes & The Mental Game
During my last week in league (we only play 9 holes), I went into number 8 at even par. I had one birdie and 1 bogey, and I was feeling pretty good. But holes 7-9 on my home course are littered with water hazards and I had put a few balls in them the first few times I played.
So I get up to hit a ~75 yard approach shot over the water. My mind is going crazy with "don't leave it short"…so I send it long to a really bad spot for the green and pin location. Now I'm flustered and end up hitting a chip shot fat. You know the story from here. #9 wasn't any better.
I go from being even with two holes to go and manage to finish 5 over. Those few holes are in my head and I really need to focus when I get to them.
The Positive…
My driving has historically been the absolute worst part of my game. Toward the end of last year, I signed up for coaching from the guys at Me & My Golf. They have a "Total Driving" program that I started working through late last year. I saw some immediate improvement, but after continuing to work on the things learned in the program, I am absolutely crushing the ball!
I played the Old Course a couple of days ago, as part of the qualifier rounds for the Simulator Golf Tour. Average driver distance was 308…that was AVERAGE.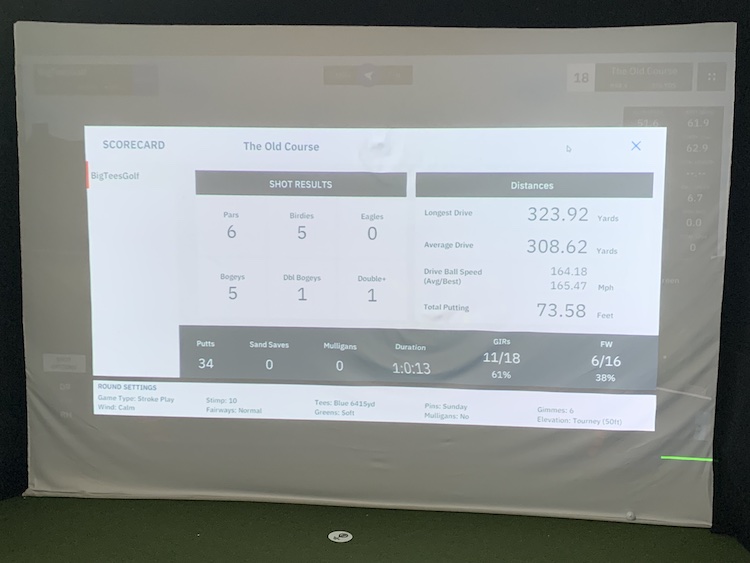 Now, historically, my accuracy would have been the issue, not distance. But I really never had a terrible driver shot. I definitely had one or two leak a bit on me, but they were really good overall!
The distance of my driver, and every other club in the bag, has increased with what feels like less effort. I have worked really hard on improving my release and rotation. Getting my hips through and letting the club "whip" through at the bottom has massively increased my distances. So much so, that It has caused a few problems for me out on the course.
For example, we have a par 3 that usually hits around 150 yards. This has always been an 8-Iron for me. A couple of rounds ago, I launched it way over the green and was in really bad shape on the backside. Yesterday, I used my 9-Iron and still went long, not too long though.
My 5-Iron went from 195 total, to carrying 200/205. I am having to recalibrate my club selection, and have not always gotten it right out on the course.
Where do I go from here?
Before my last 18, I really doubled down on the mental part of the game. I took about 20 minutes of quiet time to visualize, following the advice of my wife who has shared her knowledge from her days at the Olympics. I essentially "played" the course in my head, visualizing every shot perfectly on each hole.
The result – I shot a 77, breaking 80 for the first time in my life!
I plan to continue taking this approach. It was not easy to do, but it put me in a really good state of mind going into the round.
Outside of that – just continuing to work on every part of my game. My driver has certainly gotten significantly better, but there is still room for improvement. Same with all of my irons and short game.
Good luck on the course!