My wedge game on the simulator just keeps getting better! Distance control keeps improving, and I'm hitting far fewer shanks and almost never duff it.
Yes, it helps I'm hitting off of a mat, so we'll see how this translates on the golf course in the spring…but I'm loving the results thus far.
Building a Wedge Matrix
I took the time to build a wedge matrix. What's that? It's basically a chart that gives you all of your own distances from several swing positions, both carry and roll. I did a full post on wedge distance control & How to build a matrix.
Mine looks like this!

Here are some snapshots as I was building it out with each of my clubs. Basically, I hit each club from the various clock positions, but specifically identifying the Clock position as a "new club" on my simulator. This allowed me to very easily pull the data I needed. I am able to do 1 club in about 30 minutes, and that's with taking at least 10 shots in each clock position.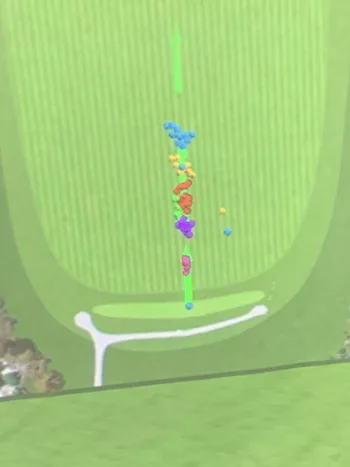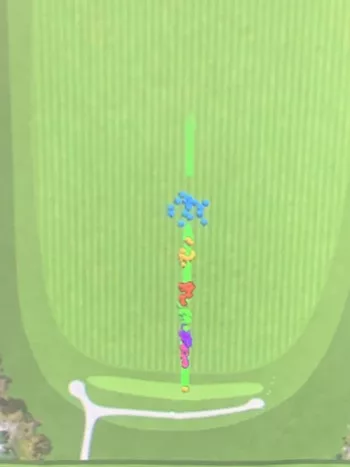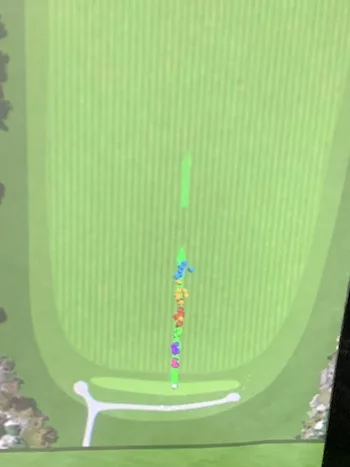 You can see a couple of shanks there with my 50 degree. It is a club that I have HATED since early on. I couldn't hit it well, so it sat in the corner all year. Working on it!
One other thing to note here, although my matrix says 108 for total on my PW, that is a very comfortable and easy swing. I can hit that club 135 if I take a full/hard swing. Maybe I need to do a Full-Full on top of what I've already done here…but accuracy starts to drop off quite a bit when I do that. You can already see some dispersion at the 108 mark.
Swing Tempo
Over the last few weeks I've also been working on my swing tempo, which I've outlined here. When I really focus on it, there has been a lot of positive. Perhaps most notably, when listening to swing tempo music as I practice, I notice an improvement in my accuracy.
Simply looking at the 3 pictures above – I started with my PW, then moved to my 50 degree. After the 50, I took a break for a few minutes, I wasn't happy with my accuracy. Because of the tempo work I had been doing before, I thought I'd pull up my app and let it play in the background. I did the entire SW session with the music playing in the background.
You can see the dispersion on those shots stays much tighter to the center line.
I finished out the shots needed to build the matrix, and I knew that my accuracy was much better with the SW…so I went back to my PW to see how I'd hit it. I was nailing everything right in the center. Definitely have to give some credit to the tempo work!!