I recently had the chance to review the new Bushnell Pro X3, the best and most feature-rich rangefinder on the market.
The clarity, speed, and unparalleled features of this device firmly puts it at the top of the list when it comes to premium golf rangefinders.
At its price point, I wouldn't expect anything less…but I did run into a few kinks as I put it to the test on the course.
Bushnell Pro X3 Rangefinder Review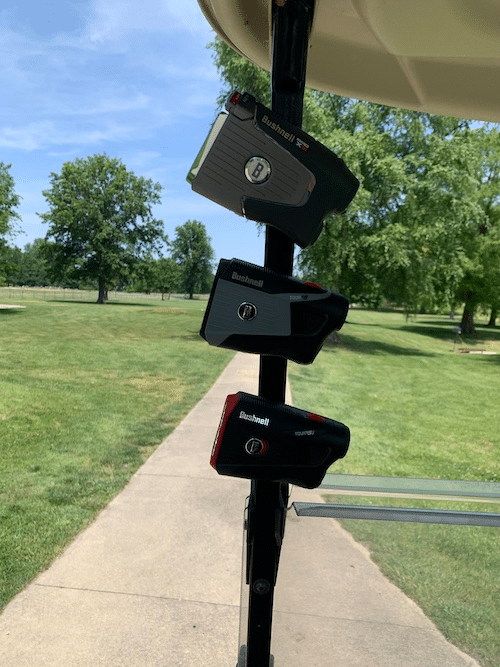 I took the Bushnell Pro X3 out on the course with the Tour V5 and Tour V5 shift, just to see how big of a difference there was in overall performance. I was basically a caddie during this round, collecting distances to anything and everything.
All 3 provided me with the exact same distances and slope adjustment readings (shift model) with pretty much every single target I shot.
Trees, bunkers, edges of ponds, rocks, other golfers, and flags.
The Pro X3 was super fast, giving me distance readings almost immediately with every shot. The 7x magnification was also noticeable (compared to the 6x of the Tour's), but likely only because I was actively switching from one rangefinder to another.
The Jolt feature and Flag lock didn't always work as expected, however, I'll share more on that below.
The X3 was also noticeably heavier and not as compact, but it's a small difference that most golfers wont even notice, nor care about.
Related – Bushnell Rangefinders – Full Lineup Comparison
Quick Facts
The Bushnell Pro X3 Laser Rangefinder is a golf rangefinder that is waterproof and has a 7x magnification. It has a dual display selector, allowing you to choose between red or black. This helps with varying light conditions.
The Pro X3 can compensate for slope and has a locking slope switch, making it legal for tournament play. It also has a magnetic mount and jolt flag locking technology, which is pretty standard for most decent rangefinders these days.
Perhaps the coolest features of all – it can compensate for elevation change from your home course. It can also compensate for temperature and barometric pressure.
It even has bluetooth and integrates with the Bushnell golf app.
MSRP – $599.99
PROS
Slope and Elements adjustment technology
Ability to set your home elevation and adjust to your distances
Best-in-class accuracy
Quality look and feel
Practical and robust carry case
CONS
A bit larger and heavier than other rangefinders
Pricey
Who Should Buy the Bushnell Pro X3
If you are a golfer who is willing to pay a premium for the best and highest quality products on the market – this is definitely the best of the best!
For the golfer who wants to have the latest technology, you are certain to geek out on the new features of the X3.
If you are regularly playing in various weather conditions, especially temperature, you'll get the benefits of compensated distances.
The Pro X3 will also be useful to those who travel, playing courses at varying elevations. Let's say you live in St. Louis and travel to Colorado Springs, you'd normally need to do some math to figure out how much the elevation will affect your ball. With the X3, it will do that for you on every shot!
If you don't need all of those extra features – check out my Bushnell Tour V5 Shift Review. You should also check out the Blue Tees Series 3 Max, it is loaded with features and costs significantly less.
What rangefinders do the pros use? – The Pro X3!
Bushnell Pro X3 Product Comparison Chart
| Feature | Bushnell Pro X3 | Bushnell Tour V5 | Bushnell Tour V5 Shift | Bushnell Tour V6 | Bushnell Tour V6 Shift | BlueTees Series 3 Max |
| --- | --- | --- | --- | --- | --- | --- |
| MSRP | $599.99 | $249.99 | $329.99 | $299.99 | $399.99 | $299.99 |
| Weight (Ounces) | 12 | 8 | 8 | 8.5 | 8.7 | 8 |
| Waterproof | Yes | No | No | Yes | Yes | Yes |
| Bluetooth | Yes | No | No | No | No | No |
| Slope | Yes | No | Yes | No | Yes | Yes |
| Slope Switch | Yes | No | Yes | No | Yes | Yes |
| Magnification | 7x | 6x | 6x | 6x | 6x | 7x |
| Total Range (yards) | 1,300 | 1,300 | 1,300 | 1,300 | 1,300 | 900 |
| Accuracy (yards) | 1 | 1 | 1 | 1 | 1 | 1 |
| Warranty (years) | 2 | 2 | 2 | 2 | 2 | 2 |
| Magnetic Mount | Yes | Yes | Yes | Yes | Yes | Yes |
| | | | | | | |
Learn more about rangefinder features with our comprehensive golf rangefinder buying guide.
Unboxing the Bushnell Pro X3 and First Impressions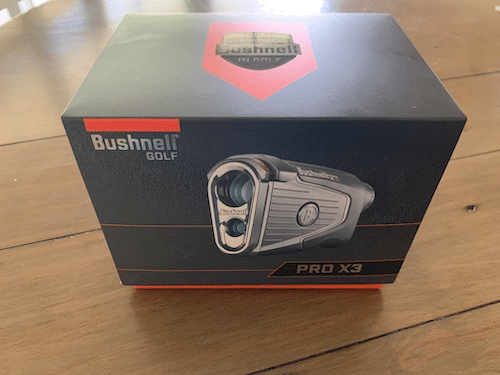 My first impression when pulling it out of the box was – wow, this thing is solid. It is noticeably heavier than most rangefinders and a bit larger. All of that new technology had to go somewhere I guess.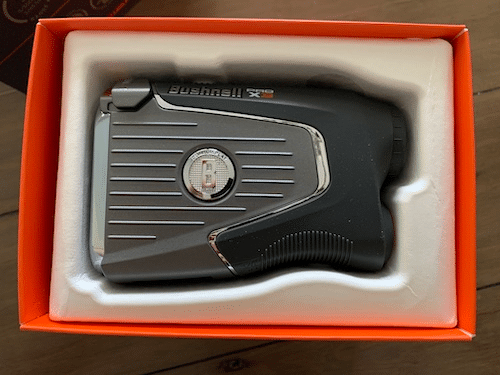 With Bushnell's patented slope technology, you are going to get the most accurate adjusted readings of any golf laser rangefinder on the market. But, if you play in any USGA sanctioned events, you'll need to turn that feature off.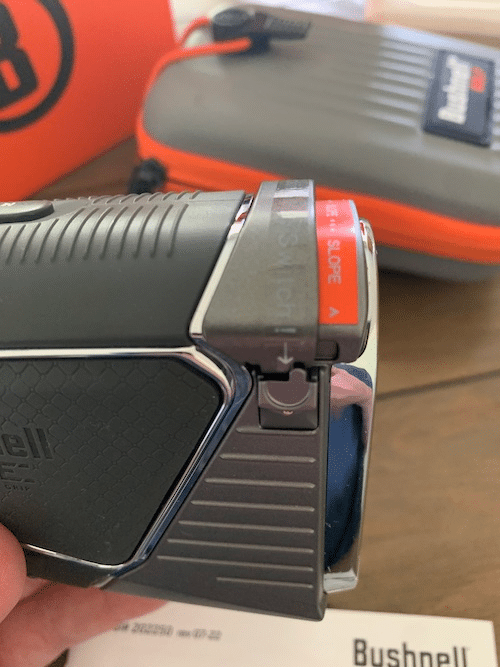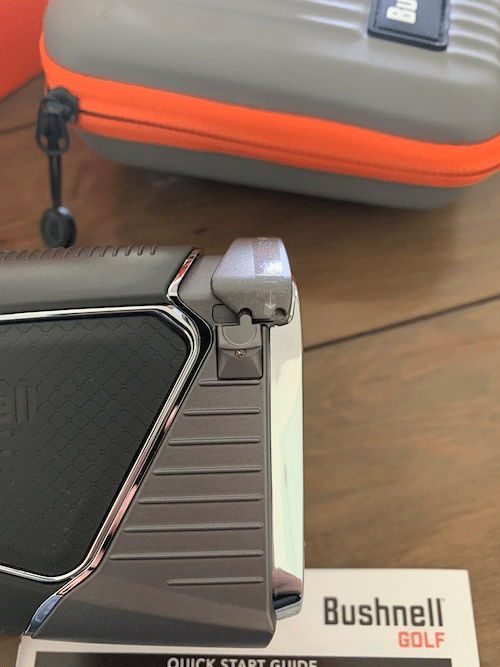 I like how the switch locks in place, it would be nearly impossible to accidentally move it. I also like how the bright red shows up on the top, giving you a clear indicator when slope mode is on.
I messed around for a while shooting random items out my back door. Neighbors houses, swing sets, fences etc. I was impressed with how clear everything looks and how quickly it calculates everything.
What's not to like about the Pro X3?
There is certainly some additional complexity with the different modes and setup due to the added features, but anyone somewhat tech savvy will get through it. You may need to refer to the full manual, which does not come with your purchase.
One of the pain points for me was understanding when adjustments for elements were being made. Simply press the mode button quickly, and you'll see a special icon on the display. When you see the icon, it is providing elements compensated distances. Refer to page 5 of the manual linked above for more on that.
I had some bad readings with the "PinSeeker" technology, but it only happened rarely. I was at 161 yards from the flag, but there was a hill in front at about 108 yards, then trees in the background at about 185 yards.
There were a couple of times I'd get the jolt with the 108 reading, or the 185 reading.
Anyone who has ever used a rangefinder before knows its certainly not uncommon to pick up trees in the background. So I'd simply keep this in mind and not rely solely upon the jolt or PinSeeker technology. It works great most of the time, but it's always a good idea to have a "general" frame of reference for your distance before you blindly take the first reading your rangefinder provides.
Final Thoughts
If you are looking for the best rangefinder on the market, this is the one for you!
The Bushnell Pro X3 is simply the best golf rangefinder on the market. Period! No other rangefinder comes close to providing the same level of features. Many others have gotten really good at providing accurate distances, but they don't have the added features.
Otherwise, take a look at the Tour V5 or Tour V5 shift!
Good luck on the golf course.