The Blue Tees Golf Series 3 Max rangefinder is pretty awesome! I recently picked on up from Blue Tees Golf and have been using it for a few weeks now. I'm impressed! Seriously, of all the rangefinders I have reviewed….including the full lineup of Bushnell's…the Series 3 is staying in my bag!
First of all, you just can't beat the price for what you get. They regularly have a deal where you can basically get the rangefinder, their speaker, hub, and divot tool…all for less than you'd pay for just the rangefinder from others.
I'll give you a side-by-side comparison to other comparable rangefinders, my first impressions, and how I feel after using it exclusively for a few weeks.
With the series 3 max, you get slope, flag lock technology, auto ambient display, water resistance, and a scanning mode. You'll need to spend $550+ to get all of those features from other manufacturers.
Blue Tees Series 3 Max Rangefinder Review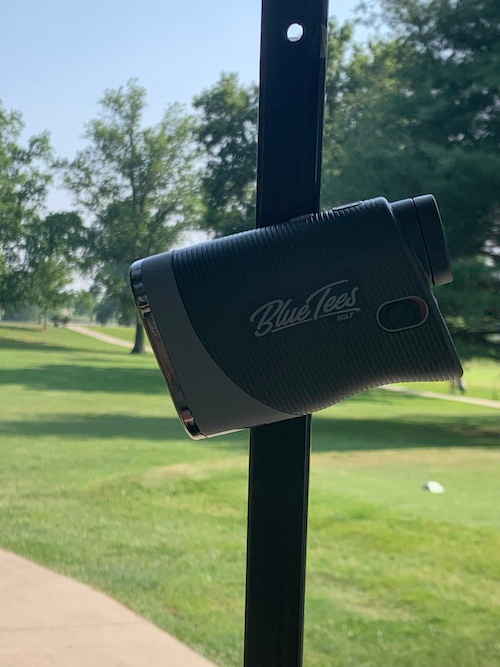 I took the full lineup of Bushnell Rangefinders, the Precision Pro NX10, and the Blue Tees Series 3 out on the golf course. Comparing each for ease of use, accuracy, and just overall performance.
All of them gave me nearly exact readings on every target. I'd get +/- 1 or 2 yards on occasion between the 5 of them, which is pretty much to be expected.
I was basically a caddie during this round, shooting trees, bunkers, edges of ponds, rocks, other golfers, and flags.
The Blue Tees 3 Max was super fast, giving me distance readings immediately with every shot. The 7x magnification and overall view quality were impressive.
It was also very simple to use and I loved the ambient display automatically adjusting to the lighting conditions. With other rangefinders, you have to switch between modes or displays to adjust. The Series 3 does it automatically.
What does that mean? The display (distance, cross-hairs, etc) will transition from black to bright red depending on the amount of light. And it's not "one or the other"…it will actually hit everything in between and always seems to be perfect for visibility.
Quick Facts
The Blue Tees Series 3 Max is a laser rangefinder that is accurate to within one yard. It has a 7x magnification scope with flag lock technology.
The Series 3 max rangefinder has a slope switch, making it fully legal for tournament play. It is also water resistant and has an auto ambient display that adjusts to the lighting conditions.
It also has a magnetic strip, allowing you to conveniently keep it on your cart bar.
With a 900-yard range and slope-adjusted distances, this is one of the most feature-rich laser rangefinders on the market.
MSRP – $299 – They almost always have a great deal at $239
On top of that, you can get 10% off, exclusively from Big Tees Golf! Code: BIGTEESGOLF
PROS
Most Features of any Rangefinder for the price
Built-in Magnetic strip
Quality look and feel
7x Magnification
Ability to scan targets
Golf & Hunting Modes
Water Resistant
CONS
Not waterproof (only water resistant)
Not quite as compact as the Bushnell Tour models
Additional 10% off with coupon code – BIGTEESGOLF
Who Should Buy the Blue Tees Rangefinder
If you are a golfer of any caliber and don't want to pay a premium for a high-quality rangefinder – this is the one for you!
Golf rangefinders do not come with this many features in this price range. Slope alone will put you into another category. The Series 3 offers slope, adjustable display, 7x magnification etc. You'd need to step up to the Bushnell Pro X3 at $599 to match it.
Oh, I should say – you'll only get 900 yards of range from the Blue Tees rangefinder. Bushnell's will get you 1,300. But honestly, do you really need more than say 300 on the golf course?
Related – Rangefinder buying guide
Unboxing the Blue Tees Golf Series 3 Max Rangefinder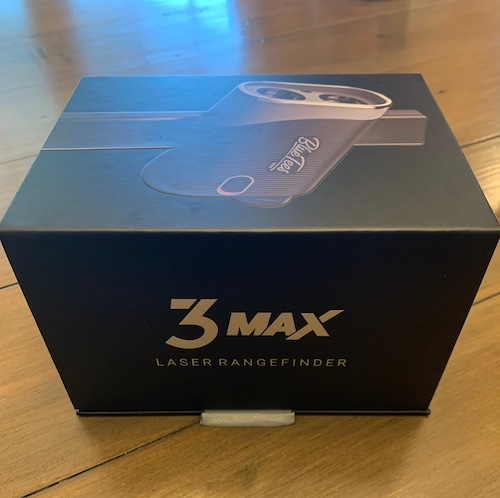 First of all, you know those product boxes that some people keep around for years? Usually an iPhone or iPad…Well, this box and overall packaging is going to make you feel that way.
Blue Tees didn't stop at making a high quality rangefinder – they stepped up the packaging to go with it!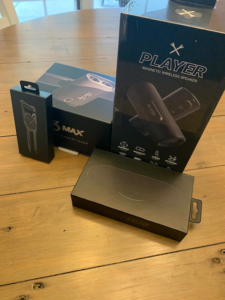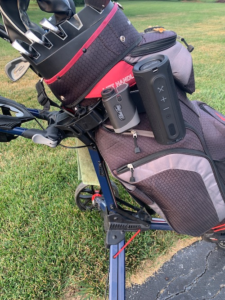 I actually got the full player pack, which included their speaker, a divot tool, and a magnetic hub which can be attached to your bag in case you're using a pull cart.
Upgrading to the player pack cost me less than the comparable Bushnell V5 Tour Shift…basically got a free speaker out of it!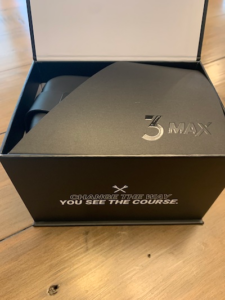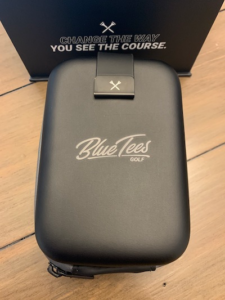 Ok, this is where I didn't realize I cared about a case. When I pulled this thing out of the box I immediately noticed how awesome this case was.
It's got a magnetic strap that's way more convenient than those crap elastic cords, at least in my opinion. Not entirely sure what this bad boy is made of, but it feels like some seriously smooth leather.
And inside? They've lined it with the softest material ever. Seriously, this thing is top-notch quality all around! You won't be disappointed, my friend.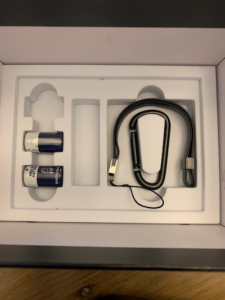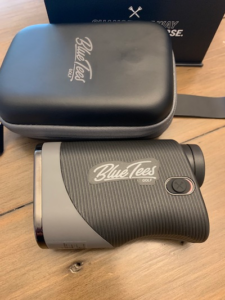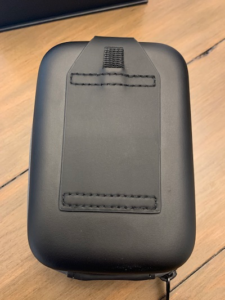 They conveniently added a strap to the back of the case, so if you want to put it on your belt, or strap it tightly to your golf bag, you've got the option.
It also comes with a carabiner clip – tons of options, carry it however you want!
The folks at Blue Tees have thought of it all. Some rangefinder manufacturers will promise to send you replacement batteries – you just need to go fill out an online form. Blue Tees just throws 3 batteries in the box for you.
Want a wrist strap for your device – you've got it!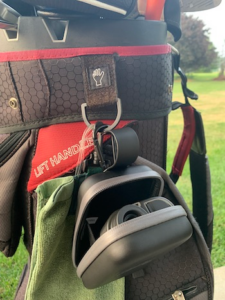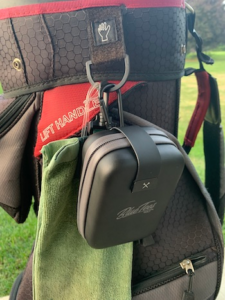 The Blue Tees Golf Series 3 Max is the ultimate rangefinder that delivers unbeatable performance and quality, staying in my bag over even the top contenders in the market.
Blue Tees Series 3 Max – vs – Bushnell Tour V5 Shift – vs – Precision Pro NX 10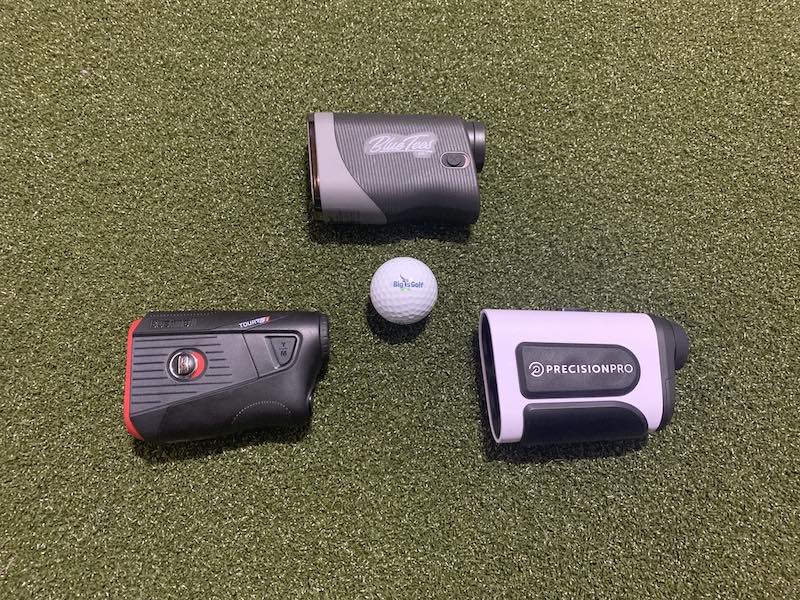 Here is a chart comparing some of the top laser rangefinders on the market.
| | Bushnell Pro X3 | Precision Pro NX10 Slope | Bushnell Tour V5 Shift | BlueTees Series 3 Max |
| --- | --- | --- | --- | --- |
| MSRP | $599.99 | $279.99 | $329.99 | $239.99 |
| Weight (Ounces) | 12 | 9 | 8 | 8 |
| Waterproof | Yes | No | No | Yes |
| Bluetooth | Yes | No | No | No |
| Slope | Yes | Yes | Yes | Yes |
| Slope Switch | Yes | Yes | Yes | Yes |
| Magnification | 7x | 6x | 6x | 7x |
| Total Range (yards) | 1,300 | 999 | 1,300 | 900 |
| Accuracy (yards) | 1 | 1 | 1 | 1 |
| Warranty (years) | 2 | 3 | 2 | 2 |
| Magnetic Mount | Yes | Yes | Yes | Yes |
| | Pin lock with jolt vibration to give you confidence you are locked onto your target | Vibrates when laser hits the target | Pin lock with jolt vibration to give you confidence you are locked onto your target | Flag lock and pulse vibration when on target |
| | Dual Display settings for a better view in all light settings | Interchangeable design, allowing for maximum customization | | Auto ambient display |
| | Home elevation adjustment – set your home elevation and get adjusted distances | Free battery replacements | | Hunting and golf modes |
| | Temperature and Altitude features for compensated distances | | | |
Related – Bushnell golf rangefinders – comparison and buying guide
Related – Precision Pro NX10 Rangefinder Review
Final Thoughts
As you can see, the Blue Tees Series 3 Max is the most feature rich laser rangefinder with slope on the market today at this price point.
It is extremely high quality, and the folks at Blue Tees golf have seriously went above and beyond thinking about their customer. They offer the best deal you'll ever find for a quality rangefinder.
After testing the full Bushnell lineup, and the Precision Pro NX10, the Blue Tees is the one I decided to keep in the bag!
Good luck on the golf course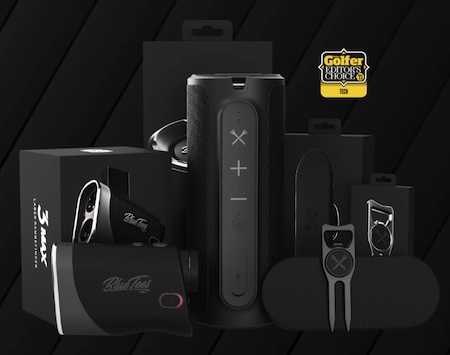 Fourth of July Sale
Series 3 Max – Player Speaker – Divot Tool – MagHub
$349
Plus get an additional 10% off with Coupon Code
BIGTEESGOLF