I recently had a chance to do a Precision Pro NX10 Rangefinder review, Precision Pro's most recent rangefinder with slope.
The NX10 is a slight upgrade from its NX9 predecessor. They have upgraded the build quality and added a year to its warranty period. Precision Pro has also added the ability to customize your rangefinder with a new interchangeable sleeve.
I'll give you a side-by-side comparison to other comparable rangefinders, my first impressions, and how I feel after using it exclusively for a few weeks.
Precision Pro NX10 Rangefinder Review
I took the Precision Pro NX10, the full lineup of Bushnell Rangefinders, and the Blue Tees Series 3 out on the golf course. Comparing each for accuracy, ease of use, and overall performance.
All of them gave me nearly exact readings on each target. I'd get +/- 1 or 2 yards occasionally between the 5 of them, which is to be expected.
I was basically a caddie during this round, shooting trees, hazards, edges of ponds, rocks, other golfers, and flags.
The Precision Pro NX10 was super fast, it gave me readings immediately with every shot. It is extremely simple to use! No crazy mode selections, just one button and one switch allowing you to enable or disable slope.
On the screen, it simply gives you yardage, slope adjustment, and a battery indicator. Nothing to be confused about. It has a target acquisition capability with pulse vibration, but it doesn't mean you are on the flag when it vibrates. It simply vibrates whenever it collects a reading.
I like that it comes with a 3-year warranty, magnetic cart grip, and I really like the carry case. I'm not really into the custom skins, but I am sure many golfers will find it appealing to customize theirs. They have over 40 designs to choose from

I was able to get distance readings on pretty much every target I shot with the Precision Pro rangefinder. Edges of bunkers, cart signs, trees, and even low hills. This is particularly helpful if you are trying to avoid obstacles on the course. And honestly, most golf rangefinders will do the same thing reliably.
Quick Facts
The Precision Pro NX10 rangefinder is accurate to within 1 yard. It has 6x magnification with adaptive slope technology. It also has a 999 yard total range and comes with a 3 year warranty.
The NX10 golf rangefinder comes with a slope switch, making it fully legal for tournament play.
It also has a magnetic strip, allowing you to conveniently mount it on your cart bar. The magnetic strip is under the Precision Pro Golf logo, which actually felt a bit odd. It didn't feel natural putting that side of the device against the cart bar, but you get used to it pretty quickly.
You can switch between yards and meters by simply holding the power button for 5 seconds.
MSRP is $299.99, but they regularly sell for much less.
PROS
3-Year warranty
Built-in Magnetic strip
Quality look and feel
6x Magnification
Ability to customize design
CONS
Not waterproof (only water resistant)
Not quite as compact as the Bushnell Tour models
Missing some features of other rangefinders at this price point
Who Should Buy the Precision Pro NX10 Rangefinder
If you are a golfer of any caliber and want a very simple to use and reliable rangefinder, this is a great option. If you are a golfer who cares about the ability to customize and put some cool designs on your device, this is the only rangefinder on the market that gives you that ability.
At this price point, it is definitely less expensive than some of its competitors but you'll miss out on a feature or two, namely slightly higher magnification, dual ambient display, and true flag lock technology.
But honestly, the flag lock technology from the Bushnell's doesn't work perfectly. Ambient display is pretty cool if you play in low light conditions, but not necessary otherwise. Slightly less magnification isn't something you'll really notice either unless you're comparing them side-by-side.
Related – Rangefinder buying guide
Unboxing the Precision Pro NX10 Rangefinder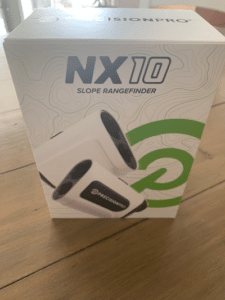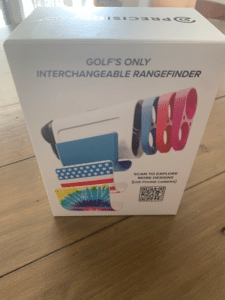 I felt like Precision Pro spent some time on their box, mainly marketing their interchangeable design. If you are the golfer that likes to wear the John Daly inspired pants and shirts, you'll probably love this thing.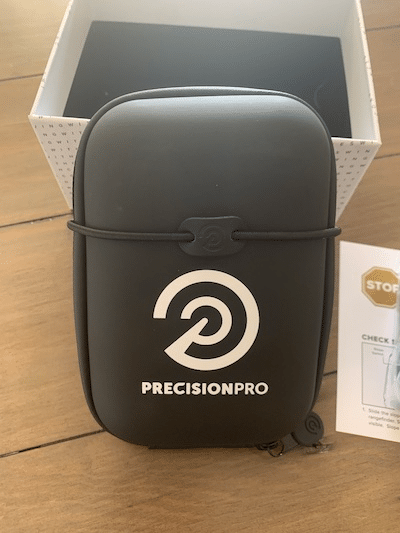 The first thing I noticed when pulling this out of the box was the high quality in the case. No offense to Bushnell, but they could take some serious tips from Precision Pro Golf in the case design. I honestly didn't think I would care about a case, but after feeling this thing…it's pretty nice!
I'm not a fan of the elastic cord, but I get it. It comes with a carabiner clip so you can hang it on your bag. It also has a strap sewn onto the back of the case, so if you'd like to attach it to your belt that is an option too.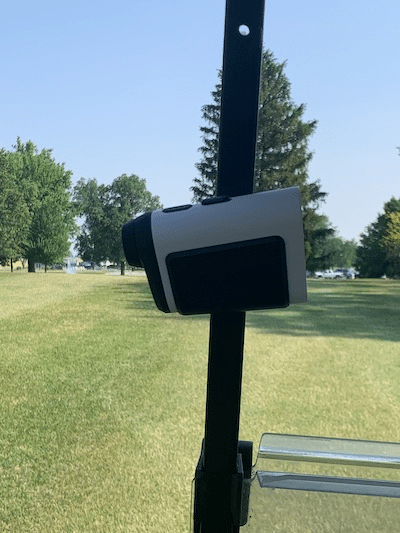 I mentioned earlier that the magnetic strip was under the logo…you'll get used to it, but it did feel a bit odd putting that side against the cart bar at first.
Overall, I think the NX10 is a great option for many golfers. It felt similar in size to the Blue Tees Series 3 and Bushnell Pro X3. It feels like a good high quality rangefinder and delivered immediate and accurate readings.
Precision Pro NX 10 – vs – Blue Tees Series 3 Max – vs – Bushnell Tour V5 Shift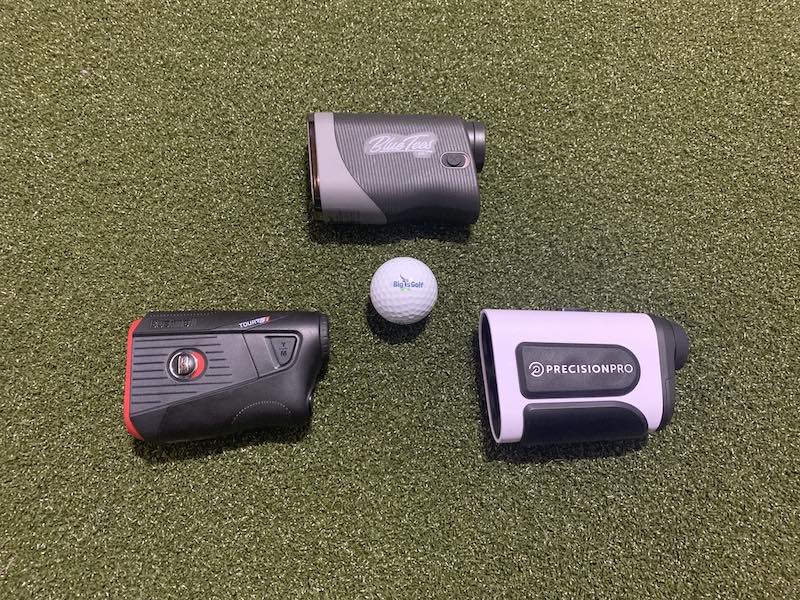 Here is a chart comparing the Precision Pro NX10 to some of the top laser rangefinders on the market.
| | Bushnell Pro X3 | Precision Pro NX10 Slope | Bushnell Tour V5 Shift | BlueTees Series 3 Max |
| --- | --- | --- | --- | --- |
| MSRP | $599.99 | $279.99 | $329.99 | $239.99 |
| Weight (Ounces) | 12 | 9 | 8 | 8 |
| Waterproof | Yes | No | No | Yes |
| Bluetooth | Yes | No | No | No |
| Slope | Yes | Yes | Yes | Yes |
| Slope Switch | Yes | Yes | Yes | Yes |
| Magnification | 7x | 6x | 6x | 7x |
| Total Range (yards) | 1,300 | 999 | 1,300 | 900 |
| Accuracy (yards) | 1 | 1 | 1 | 1 |
| Warranty (years) | 2 | 3 | 2 | 2 |
| Magnetic Mount | Yes | Yes | Yes | Yes |
| | Pin lock with jolt vibration to give you confidence you are locked onto your target | Vibrates when laser hits the target | Pin lock with jolt vibration to give you confidence you are locked onto your target | Flag lock and pulse vibration when on target |
| | Dual Display settings for a better view in all light settings | Interchangeable design, allowing for maximum customization | | Auto ambient display |
| | Home elevation adjustment – set your home elevation and get adjusted distances | Free battery replacements | | Hunting and golf modes |
| | Temperature and Altitude features for compensated distances | | | |
Related – Bushnell golf rangefinders – comparison and buying guide
Related – Blue Tees Series 3 Max rangefinder review
Final Thoughts
The Precision Pro NX10 is a high-quality, simple to use, and reliable rangefinder. It allows you to customize its design, but lacks some of the features found in other rangefinders on the market.
Overall, it is a great option at its price point and will be suitable to golfers of any skill level looking for a good rangefinder with slope capability. From a performance standpoint, I think the NX10 performs really well. You'll get accurate distances almost immediately.
Good luck on the golf course!