I have been golfing for over 30 years, and until recently, I never relied on technology to help me find distances on the golf course.
My game has gotten better recently, especially my approach shots. But that's probably due to a combination of honing in on my iron distances, practice, and the use of technology to get exact pin distances.
I have evolved my approach to distance control over the last several years and I am going to share some tips that I hope you will find useful and to help you improve your game.
I'll explain why you shouldn't always try to hit to your exact pin location, and give you plenty of information to determine the distance you should hit to.
Understanding Yardage Markers
Whether you've been golfing for 2 days or 10 years, you've seen these markers on the golf course.
Standard Yardage Markers & Color Code
Most golf courses are marked at typical increments of 100, 150, and 200 yards. Some golf courses even provide a 250 marker.
A golf course yardage marker color code is:
Red = 100 yards
White = 150 yards
Blue = 200 yards
Yellow = 250 yards
How are golf holes measured? Tees and yardage markers indicate the distance to the center of the green.
Sprinkler Heads & Other non-standard Markers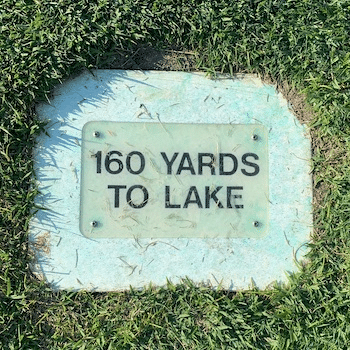 In order to speed up play and provide a better overall experience to golfers, most courses will also provide distances on sprinkler heads. You can almost always find a sprinkler head within a short distance of your ball.
Another somewhat common marker you might find would be course specific. An example of this at my local club is on the number 8 tee. Typically golfers will lay-up short of a pond. To help speed of play, we have a marker that says "160 to lake", even though the overall distance to the center of the green is more like 220.
You'll find these helpful markers on many golf courses when there are obstacles.
Pin Placements
Another indicator of distance on the golf course is pin placement and their color, or "mini flag".
Some courses have different color flags and will use these to help you identify whether the pin location is near the front, middle, or back of the green.
Red = Front pin location
White = Middle pin location
Blue = Back pin location
Alternatively, for courses that have the same color flag throughout, yellow for example, will usually have a mini-flag or adjustable ball that can be moved up or down the flag stick. Greenskeepers will make the appropriate adjustment when putting in a new hole location.
Low = Front pin location
Middle = Middle pin location
High = Back pin location
Calculating Distance with Yardage Markers
With the pin placement data above, and a known distance to the center of the green, you can usually make a really good estimate of your distance.
I would usually find a yardage marker on the course, lets's say I was 5 paces away from the 100-yard marker. I know I'm roughly 105 yards from the center of the green.
Now, take a look at the pin location, and add or subtract a few yards based on its placement. How many yards you add or subtract will really depend on how large the greens are.
For example, if I am on a large green and the pin is in the back, I might need to add 10 yards, which puts me at about 115 to the pin. If it is a smaller green, you may only need to add 5 yards.
Using Technology to Determine Distance
There are plenty of devices and apps to help you find your distances easily. These range from free apps to rangefinders and GPS devices that can cost several hundred dollars.
Smartphone Apps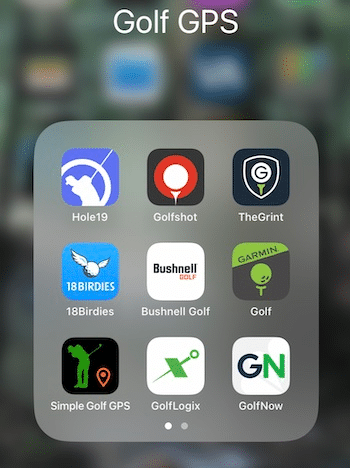 There are plenty of smartphone apps to choose from, many of which are completely free. Nearly all of them offer in-app purchases, but you can still get many of the GPS features free.
My two favorites are The Grint and GolfNow.
When you use a Smartphone GPS, it can be difficult at times to get precise distances. They may give you front, middle, and back distances. Or require you to drag and drop a point on the map. This can get a bit cumbersome at times.
But, on a positive note – they are free to use and once you get used to them can be really handy. Especially when it comes to finding distances to various obstacles.
GPS Watches
From specific golf watches to smartwatches that integrate with golf apps, there are plenty of options for the player who would prefer to use a GPS on their wrist.
As of now, I have not tested watches. I'm not one who typically wears a watch, so it has not been of interest to me. But, I have played with several golfers who use them, and most of them really like what they have.
I think one of the benefits of a GPS watch is it may remove some of the complication for some golfers.
For those golfers who prefer to just go at the center of the green, the watch is going to give you that distance and you can just "trust it" and hit. They will also offer front and back yardages, but sometimes hitting at the center is best for us amateurs.
Rangefinders
I've been using a rangefinder for the last few years, and am in the middle of testing several different models. Some are better than others.
A rangefinder, in my opinion is the most convenient and fastest way to get accurate distances on the golf course. You can find the pin location within 1 yard of accuracy. You can find distances to specific obstacles, and even see how far the group in front of you is before you hit into someone.
There are plenty of options available, some offering far better accuracy and more features than others.
Tips you can use on the golf course
If you have, or eventually get, the ability to get precise distances, keep hole location in mind. If the pin is at the front of the green, it's usually better to be a bit long and putt your next shot, as opposed to coming up short of the green and have to chip out of the rough.
Same goes for a back pin location. This is where knowing precise distances can hurt you, so make the mental adjustment to avoid it.
I also do this with obstacles a lot of times. Knowing how far I need to carry to get over a sand trap, or a pond is almost always helpful – at least in theory. I'm not always able to execute it…but.
If you don't have a rangefinder, or don't want to use technology at all – that is perfectly fine. Use the distance markers on the course and you'll get pretty efficient at estimating your distance to the middle of the green.
Final Thoughts
There are plenty of options available to find your distances on the golf course. From yardage markers, sprinkler heads, tee signs, Smartwatches, GPS apps, and rangefinders.
Start off with the markers on the golf course, and if you find you'd like more precise yardages without guessing, move up to a Smartwatch or Rangefinder.
Good luck on the golf course.