I recently put a golf simulator in my basement and quickly realized that I needed a better lighting solution. I started looking at placing track lighting, or installing can lights.
The existing light was a bit bright for the screen, it also cast a shadow on the area where I was hitting. I really didn't want to buy some expensive track lights, or deal with running new electrical.
A friend of mine suggested a "garage light", and after looking into it, I decided to give it a shot.
No Installation Required Simulator Lighting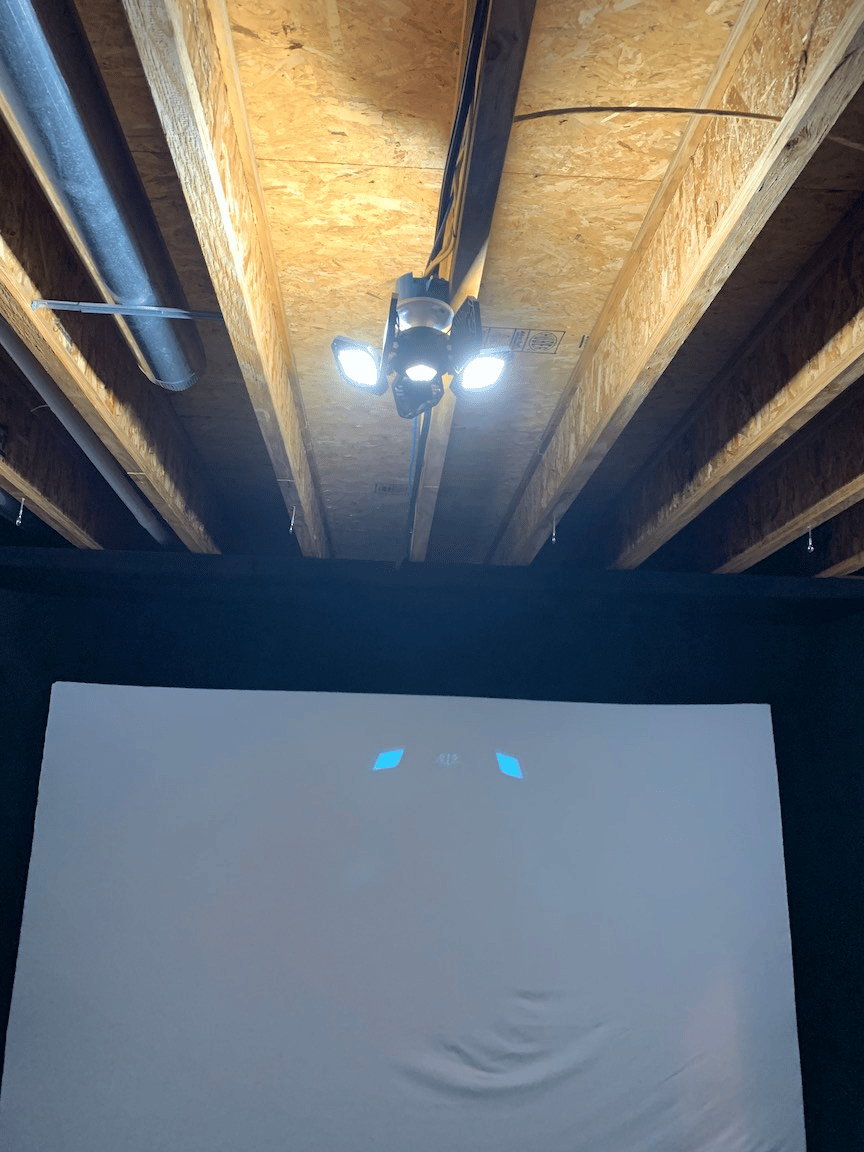 I bought a somewhat generic adjustable light from Amazon, it simply screwed into the existing light fixture, just like any regular light bulb. What I really like about it is – You can rotate each of the 5 LED panels to focus the light exactly where you want it.
This allowed me to keep the screen area a bit darker, but my hitting area extremely bright. Almost daylight bright.
My golf simulator is setup in an unfinished part of my basement, there is no natural light whatsoever. I've been able to take very clear video and can see the screen much better than before.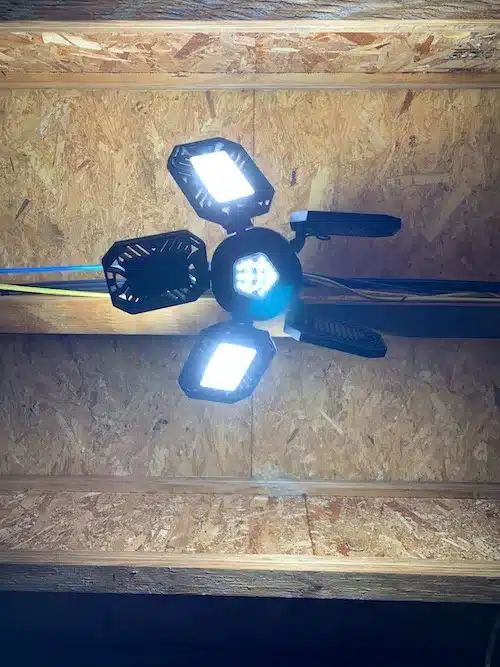 It may be difficult to tell from the picture, but each of the panels are facing in different directions and angled to put light exactly where I want it. The panel closest to the screen is turned up, leaving that side of the simulator darker.
The middle panels are angled away from the screen, again keeping that area a bit darker. Those panels are also creating enough light on both sides of my hitting area that there is almost no shadow at all.
The back panels are aimed slightly up and towards the outer walls. This also helped to keep the shadow from appearing in my hitting area.
Benefits
Relatively inexpensive

No installation required, simply use an existing light fixture.

Fully customizable to "aim" your lights.

Creates a well-lit area without shadows

Allows you to keep the area near the screen darker
Downside
If you have a high-end simulator build, this might not be a "sexy" option for you.
Where to Buy
I bought mine from Amazon, it was Prime eligible and came pretty quickly. I've seen similar lights in your big box hardware stores as well. If you prefer to pick one up from your local store, just be sure the panels rotate up/down and left/right. That capability is really what made it perfect for my needs.
Here are some recommendations on golf simulator tees that you may find helpful as well.
Final Thought
My initial research for my own simulator came up with some very expensive lighting that would have required installation. I honestly put it off for a while because I just didn't want to deal with it. I was grateful when a friend of mine had used these lights in his garage and made the suggestion.
This was relatively inexpensive and only took a minute to install. Overall, a great purchase for my needs. I hope you've found this useful!
Good luck on the golf course, and in your simulator!!