I recently did a full review of the Blue Tees Series 3 Max rangefinder, and was extremely impressed!
The Blue Tees Golf Series 3 Max is the ultimate rangefinder that delivers unbeatable performance and quality, staying in my bag over even the top contenders in the market.
I compared it to the full lineup of Bushnell Rangefinders, and the Precision Pro NX10 with slope.
Overall, the Series 3 is the hands-down winner! It is loaded with features, and you just cannot beat the price for what you get.
I loved their product so much, I reached out and they hooked me up with a Blue Tees Golf coupon code to save you an extra 10%.
Use code: BIGTEESGOLF
Blue Tees Golf Coupons
They are always offering some great deals. They will typically offer their "Player Pack", which includes the Series 3 rangefinder, portable speaker, divot tool, and magnetic hub, for less than the cost of a rangefinder that provides slope.
Obviously, a divot tool is simply just a divot tool, and you may be wondering what the magnetic hub is…To be honest, I was too!
But the divot tool doubles as a bottle opener and is really high quality…like everything else they have. The hub? Well, it's really for your bag. Lets say you're going to walk and use a pull cart. The hub attaches to your bag and you can simply stick the speaker and rangefinder on the hub for easy access.
Anyway, getting back to the Blue Tees Golf Coupons…one of the things I like the most is they will honor a coupon code on top of an already amazing deal!
Use the discount code – BIGTEESGOLF and get the latest Blue Tees Golf offering, plus an additional 10% off.
Blue Tees Golf Products
I have always seen their products, but am disappointed I have waited this long to give them a try. I honestly didn't think their rangefinder would compete with high-end manufacturers. But it really does.
They take a lot of care to address pretty much every aspect of their products. They have really thought about their fellow golfer and made sure to deliver a product that goes above and beyond.
I think they have the best carry case of any rangefinder on the market. I think they absolutely offer the most features of any rangefinder under $500…and they cost half that.
The extras that they provide…they really think about the consumer. Really impressed all the way around!
Anything you buy from Blue Tees Golf – Use the coupon code BIGTEESGOLF to get an extra 10% off.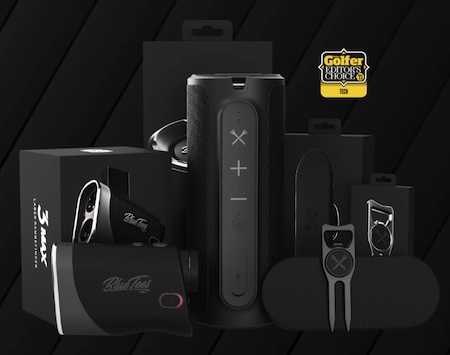 Huge Fathers Day Sale
Series 3 Max – Player Speaker – Divot Tool – MagHub
$299
Plus get an additional 10% off with Coupon Code
BIGTEESGOLF