Updated – Mar 19, 2023
I received my order from Bridgestone on March 17th, pretty much as soon as these were available to the general public. They are a bit softer than I expected. I would still classify them as a firm golf ball, however. I put them on the launch monitor, hitting them hundreds of times. I also took them out on the golf course.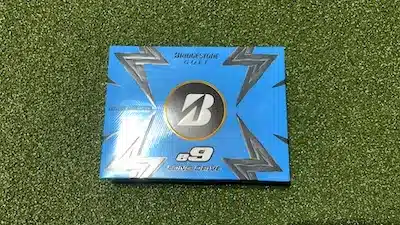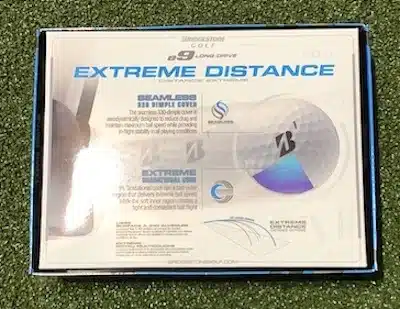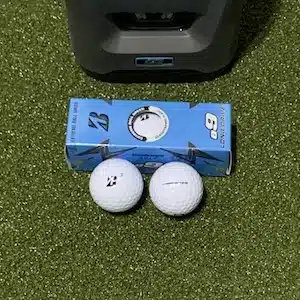 They actually do produce a bit more distance off the tee due to their low spin
My spin numbers with driver were consistently lower than most premium balls I've tested
Spin with wedges was a bit lower than what you'd get with a premium ball, but they are not nearly as low as other two-piece balls on the market
They have a firm feel, but not too firm
Trajectory seemed to be a bit higher than most balls
Bridgestone e9 Review – Performance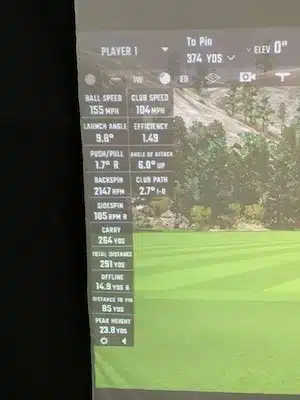 104 MPH Swing Speed – 291 yards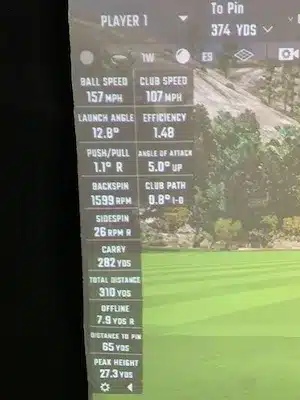 107 MPH Swing Speed – 310 yards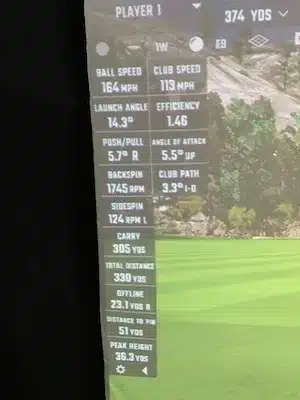 113 MPH Swing Speed – 330 yards
I would have never expected a 104 MPH shot to go nearly 300 yards, especially with the 2100 spin. At 107 MPH, I think the best I've ever hit on the simulator is just at 300 yards, the e9 went 310 yards! You can also see the 113 MPH shot traveling 330 yards. That one was offline a bit and I didn't hit is clean, as you can see from the efficiency. It's been quite a while since I've hit one 330 yards! The e9 was consistently hitting the 300+ yard mark for me.
Spin numbers were consistently lower than I am accustomed to, I think that is really the reason this ball was traveling further.
Bottom line – The Bridgestone e9 golf balls do go further!
Bridgestone e9 Golf Balls Information
The new Bridgestone E9 Long Drive golf balls are listed as "Coming Soon" Available on Bridgestone's website as of March 10th. I placed my order immediately. I couldn't wait to give them a try and put them in the simulator to see just how much extra distance I can get!
I noticed they hit the USGA conforming ball list in November, 2022. I have periodically checked their website for a launch and it wasn't until today that I see some information on the new e9 Long Drive balls.
The USGA Conforming Golf Ball List is a list of golf balls that have been tested and found to conform to the rules of golf. Golfers are only allowed to use golf balls on this list in tournament play, and the list is updated monthly as new golf balls are introduced to the market. The USGA conducts extensive testing on new golf balls to ensure that they conform to the rules of the game, which include limits on the size, weight, and performance of the ball.
The list will contain each golf ball along with it's corresponding color. The November list only had the new e9 golf ball in white. The list now has orange, yellow, pink, and white.


Bridgestone e9 Vs. e6 Golf Balls
The e6 golf balls come in white and yellow. It appears we will have a couple more color options with the e9 golf balls, including orange, which is not something we regularly see in Bridgestone golf balls.
The Bridgestone e9 golf balls are a two-piece construction golf ball with a single cover. They have a 330 dimple design pattern and receive a low spin rating both off the tee and with short irons. Interestingly, this perfectly matches the e6 golf ball.
What has changed with the e9 golf ball? Well, it looks like these are built specifically for maximum distance. Bridgestone co-developed the golf balls with the World Long Drive Association. Their website currently says they will be in white only, but the USGA ball list also has options for Orange, Yellow, and Pink. Maybe these will come following their initial launch.


Bridgestone e9 Price
The e9 long drive is going to be $29.99
I recently tested the newly released PXG golf balls, you can check that out to see what to expect.