I recently had the chance to review the Bushnell Tour V5, the least expensive option in Bushnell's lineup of rangefinders. The bottom line on this one is – It does not calculate slope.
If that's not a concern for you, read on…
The clarity, speed, and accuracy of this device were impressive, it's no wonder Bushnell is the leader in the rangefinder market.
I wouldn't expect anything less from Bushnell…but I did run into a few kinks as I put it to the test on the course.
Bushnell Tour V5 Rangefinder Review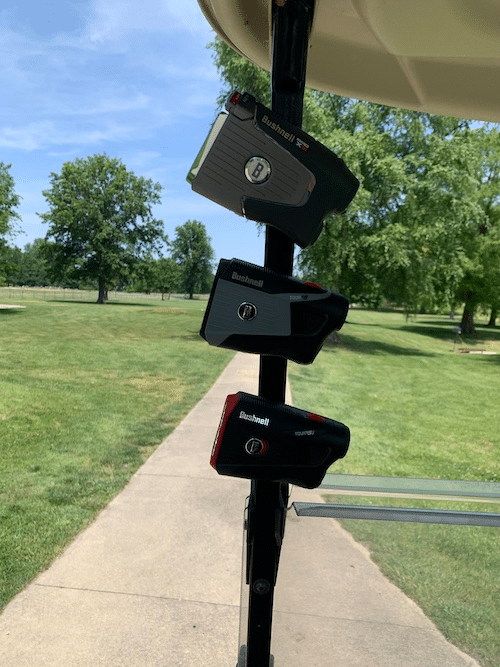 I took the Bushnell Tour V5 out on the golf course with the bushnell Tour V5 Shift, and the Pro X3, just to see how big of a difference there was in overall performance. I was basically a caddie during this round, collecting distances to anything and everything.
All 3 provided me with the exact same distances with pretty much every single target I shot.
Trees, bunkers, edges of ponds, rocks, other golfers, and flags.
The Tour V5 was super fast, giving me distance readings almost immediately with every shot. The 6x magnification and overall view quality were impressive.
The V5 was also noticeably lighter and more compact than most rangefinders.
It was very simple to use. No crazy mode selections, simply choose between yards or meters and you're good to go.
It also has the ability to scan targets. When you hold down the power button and move from one target to another, it will continuously update distance, and once you hit the flag, you'll get the jolt lock.
The Jolt feature and Flag lock didn't always work as expected, however, I'll share more on that below.
Quick Facts
The Bushnell Tour V5 Laser Rangefinder is a golf rangefinder that is extremely accurate, to within one yard. It has a 6x magnification scope and Pinseeker with Visual Jolt technology. Once locked onto your target, you feel a vibration and a red ring appears on the outer edge of your view, letting you know you're locked onto the target.
It is very simple to use and tournament legal.
The Bushnell Tour V5 Shift is also water resistant, but should not be exposed to heavy rain or submersion.
As with all Bushnell rangefinders, it has BITE magnetic mount. Here is the full manual if you'd like to read more.
MSRP – $299.99
PROS
Bite magnetic cart mount
Compact design
Best-in-class accuracy
Quality look and feel
Ability to scan targets
6x magnification
CONS
No Slope
Not waterproof (only water resistant)
Pricey
PinSeeker does not work 100% of the time
Who Should Buy the Bushnell Tour V5
If you are a golfer who is willing to pay a premium for the best and highest quality products on the market – this is definitely a great option.
You'll save a few bucks with the Tour V5 model as compared to the V5 Shift, as long as you don't care about slope, this is the right model for you.
If you are looking for a more compact design, this fits the bill. Bushnell rangefinders are trusted by PGA Tour Pros, and have been for years. They have been tested and provide the most precise distances of any rangefinder on the market.
You'll pay a few extra bucks for that peace of mind, however.
Looking for a high quality alternative with more features? Check out my review on the Blue Tees Series 3 Max.
Bushnell Tour V5 Product Comparison Chart
| Feature | Bushnell Pro X3 | Bushnell Tour V5 | Bushnell Tour V5 Shift | Bushnell Tour V6 | Bushnell Tour V6 Shift | BlueTees Series 3 Max |
| --- | --- | --- | --- | --- | --- | --- |
| MSRP | $599.99 | $249.99 | $329.99 | $299.99 | $399.99 | $239.99 |
| Weight (Ounces) | 12 | 8 | 8 | 8.5 | 8.7 | 8 |
| Waterproof | Yes | No | No | Yes | Yes | Yes |
| Bluetooth | Yes | No | No | No | No | No |
| Slope | Yes | No | Yes | No | Yes | Yes |
| Slope Switch | Yes | No | Yes | No | Yes | Yes |
| Magnification | 7x | 6x | 6x | 6x | 6x | 6x |
| Total Range (yards) | 1,300 | 1,300 | 1,300 | 1,300 | 1,300 | 900 |
| Accuracy (yards) | 1 | 1 | 1 | 1 | 1 | 1 |
| Warranty (years) | 2 | 2 | 2 | 2 | 2 | 2 |
| Magnetic Mount | Yes | Yes | Yes | Yes | Yes | Yes |
| | | | | | | |
Learn more about rangefinder features with our comprehensive golf rangefinder buying guide.
Unboxing the Bushnell Tour V5 and First Impressions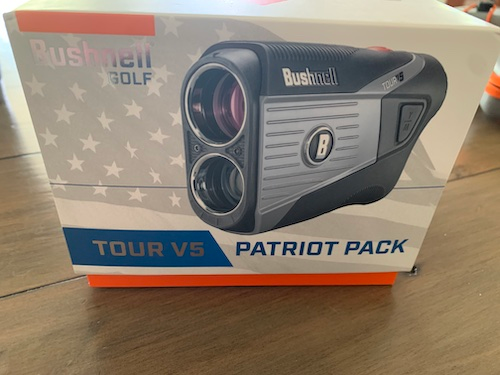 My first impression when pulling it out of the box was – wow, this thing is very solid. It is more compact than most rangefinders, but it feels very solid and high quality.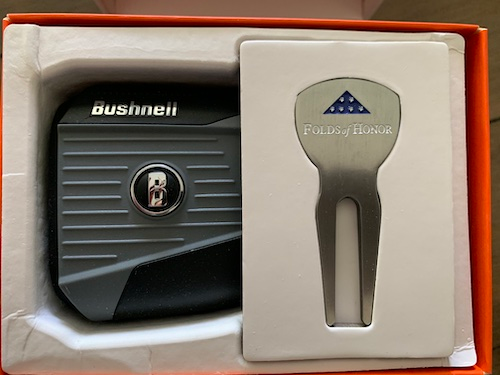 I elected for the patriot pack, which comes with a "Folds of Honor" divot tool.
More importantly, Bushnell donates a portion of the purchase price to the Folds of Honor Foundation. A non-profit dedicated to providing educational scholarships to spouses and children of fallen or disabled service members.
As a veteran myself, this is something I particularly appreciate!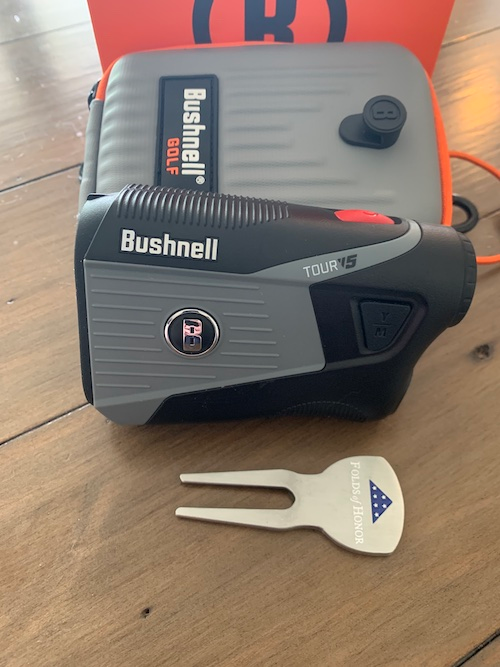 The compact design, light weight, super accurate readings, and bit magnetic cart mount make this one of the best laser rangefinders on the market. Bushnell continues to lead the golf industry when it comes to rangefinders.
If you don't need slope – this is the most budget-friendly option Bushnell has. They have also recently come out with a V6, so you can pick these up at a discount!
What's not to like about the V5 Shift?
I had some bad readings with the "PinSeeker" technology, but it only happened rarely. I was at a 145 yard par 3 with trees in the background at about 175 yards. The flag wasn't really blowing around, and it took me a few shots to actually pick it up.
I kept getting the trees behind it. This also happened with the Tour V5 Shift and even the Pro X3 model.
Anyone who has ever used a rangefinder before knows its certainly not uncommon to pick up trees in the background.
So I'd simply keep this in mind and not rely solely upon the jolt or PinSeeker technology. It works great most of the time, but it's always a good idea to have a "general" frame of reference for your distance before you blindly take the first reading your rangefinder provides.
If you are looking for a rangefinder with slope features, check out my full review on the Bushnell Tour V5 Shift.
If you are looking for even more features, such as adjustments for elements, check out my full review on the Bushnell Pro X3.
Final Thoughts
If you are looking for a high quality and dependable rangefinder, and you don't need slope, this is a great option.
I really like its compact design and overall quality. When you pick it up, it just feels like a high quality device.
When you use it, you'll get your distance immediately. No shooting the pin 4 or 5 times. Overall, a great product!
Good luck on the golf course!