Professional golfers on the PGA Tour use Bushnell Rangefinders 99% of the time.
That's pretty impressive!
How do we know? Well, it's because of the "Darrell Survey".
Before the start of each PGA event, a representative from a firm founded by Eddie Darrell will take inventory of all equipment in a player's bag. The survey is important to manufacturers, especially those sponsoring tour players. This has been going on since the 1930s.
So when it comes to golf rangefinders, we know for sure Bushnell overwhelmingly leads the pack.
Who Else Trusts Bushnell Rangefinders?
As you can imagine, Bushnell happily provides the data on their rangefinders from the Darrell Survey (1).
99% – PGA Tour

93% – NCAA Men's Championship

90% – US Amateur

96% – LPGA
"For me there's no settling for second…and no substitute for my Bushnell." – Rickie Fowler
Why do the Pros Trust Bushnell Rangefinders?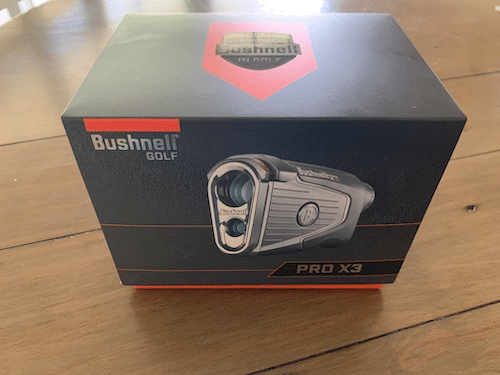 I think it's similar to why the ProV1 is the gold standard of golf balls – Bushnell created a superior product years ago and they continue to innovate and deliver superior laser rangefinders today.
Bushnell rangefinders offer the best optics, accuracy to within 1 yard, flag lock technology, and some of the most innovative technology on the market.
Professional golfers use the top-of-the-line model, the Bushnell Pro X3.
Related – Bushnell Pro X3 Rangefinder Review
In addition to its clear optics and best-in-class accuracy, the X3 offers 7x magnification, weather-compensated distances, dual display, and the ability to set your home elevation giving you the most accurate "playing distance" of any rangefinder on the market.
I recently did a full review of each of the rangefinders in Bushnell's lineup, there is no question they are the highest-quality rangefinders on the planet.
Related – Bushnell Golf Rangefinders Comparison and Buying Guide
Alternative Laser Rangefinders
Bushnell's deliver the highest quality – but that comes with a price. The Blue Tees Series 3 max is a great alternative. It is really high quality, but costs substantially less.
Related – Blue Tees Series 3 Max Rangefinder Review
The Series 3 also offers 7x magnification, slope, auto-ambient dual display, and flag lock technology. It also costs less than half of what you'll pay for the X3.
If you're sold on Bushnell's, their Tour V5 Shift (or the newer V6) model is a great option at a lower price. You won't get the weather-compensated distances, and you'll get slightly less magnification at 6x. But it's also a couple of hundred bucks cheaper. It will deliver amazing accuracy, slope-adjusted distances, and flag lock technology.
Final Thoughts
Professional golfers choose Bushnell rangefinders 99% of the time for their superior accuracy and best-in-class features.
I have tested their full line-up and there is no question they offer superior quality and reliability.
Good luck on the golf course!