I recently did an article on golf ball construction, outlining how the different layers impact overall performance. Not surprisingly, there are only a handful of golf balls with 4 or more piece construction. I am going to give you the full list of 4 piece golf balls below.
Best 4 Piece Golf Balls
There are a few big names that manufacture 4-piece golf balls, including Titleist and Callaway. I also really like Vice Golf, they produce some extremely high quality golf balls that rival the top brands in the game.
Titleist ProV1x Left Dash
The ProV1x Left Dash came in as the longest ball for slow and high swing speeds in independent tests.
How much distance? The Left Dash ball was ~2 yards further than the Vice Pro Plus. It was also ~2 yards further than the Tour Speed. With a significant price difference, is 2 yards worth it on the golf course? That's for you to decide.
When the -ProV1x was first introduced, it was reserved for PGA Tour Professionals only. It has since been opened up to the general public, but they have had some intermittent supply issues. I think it is mostly resolved now and you can certainly find them on most websites selling golf balls.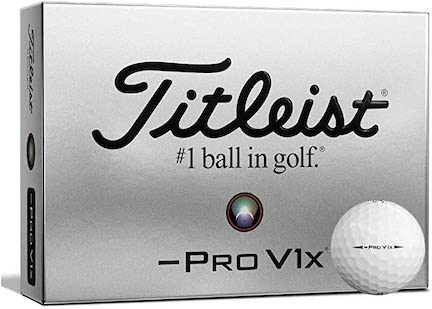 Quick Facts
Firm cast urethane cover with a 97 compression rating. 328 tetrahedral dimple design. Performed best overall in distance for golfers with high and low swing speeds. 4-piece construction.
PROS
Best distance of any golf ball on the market
Offers great greenside spin
CONS
Price
Firm ball, which many golfers do not care for
Vice Pro Plus
The Vice Pro Plus came in just short of the ProV1x Left dash in distance, but not by much. Vice Golf is one of my favorite golf ball manufacturers. They are a direct to consumer company, they are not paying millions to sponsor tour pro's. This allows them to pass on those lower costs.
Personally, I use their Vice Pro golf ball and love it. It doesn't get as much distance, but I prefer softer golf balls and I am willing to lose a couple of yards for the price and overall performance.
Although the Vice Pro Plus golf ball comes in just short of the Left Dash in distance tests, it's so close that it probably isn't going to make much of a difference for most golfers. Except price!
Vice advertises their Pro Plus ball for players with a swing speed of 110+. Obviously this is not in the slow swing speeds range. That being said, independent testing at a slow swing speed put this ball at the top in distance compared to the field.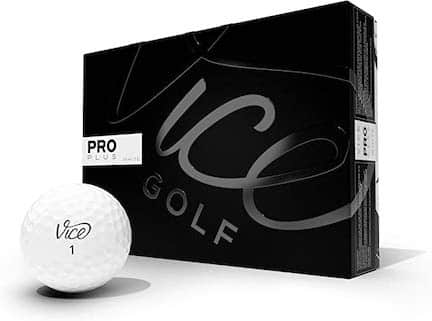 Check out my full review of Vice Golf balls!
Quick Facts
4-Piece construction with 336 dimple pattern. Extra thin cast urethane cover. Firm feel with a low spin rating off the tee and a high spin rating with short irons.
PROS
Great Distance
Price (bulk discount available)
Callaway Chrome Soft X
The Callaway Chrome Soft X is marketed to everyone from amateurs to PGA Tour Pro's. But, its spin profile is optimized for professionals.
So, unless you have a high swing speed (110+ mph), this might not be the best option for you. Check your swing speed here.
With the driver, you can expect fast ball speed, high launch angle, and a low to mid spin rating. USGA testing considered it a Mid-Spin ball off the tee.
With your mid-irons, you can expect a bit more spin than the rest of the Callaway lineup.
With your wedges, you can expect the highest spin offered by any Callaway golf ball.
From a short game perspective, this is a great golf ball! Off the tee, it really depends on your swing speed. I'd say if you have a faster swing speed that often produces 285+ yard tee shots, go for it!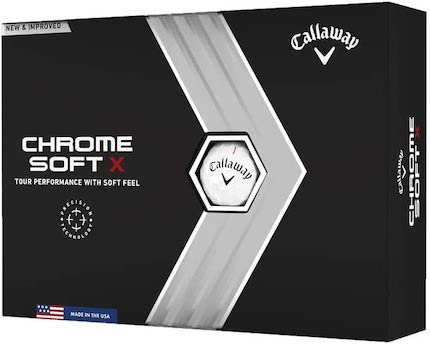 Quick Facts
New hyper elastic core for increased driver speed and softer feel. 4-piece construction with a soft urethane cover and hex tour aero 332 dimple design pattern. Rated Medium spin off the tee, and high spin with short irons by the USGA.
PROS
Great spin around the greens
Great distance off the tee for higher swing speed golfers
CONS
Price
Slightly more firm than other Callaway models
Full List of 4 Piece Golf Balls
According to the USGA conforming golf ball list, the following are 4-piece golf balls that have been accepted by the USGA.
| Manufacturer | Ball |
| --- | --- |
| OnCore | Vero X1 |
| OnCore | Vero X2 |
| Callaway | Chrome Soft X |
| Callaway | Chrome Soft X LS |
| Cut Golf | Blue |
| Cut Golf | DC |
| LA Golf | Beverly Hills |
| Maxfli | Tour X CG |
| Mizuno | RB Tour |
| Srixon | Z Star XV |
| Srixon | X |
| Wilson | Model A |
| Wilson | Model R |
| Titleist | ProV1x |
| Titleist | -ProV1x |
| Vice Golf | Pro Plus |
| Volvik | XT |
| Volvik | S4 |
| Volvik | V S4 |
| Wright & Ditson | WD |
What are Four-Piece Golf Balls?
Four-piece golf balls aim to give you the best of both worlds – meaning distance off the tee and greenside control.
A four-piece golf ball has – you guessed it, 4 pieces that include a core, an outer core layer, a mantle layer, and a cover. Typically, 4-piece golf balls will be a bit more firm. But, they often have a double cover, which helps to provide more spin around the greens.
One of the most popular 4-piece golf balls on the market is the Chrome Soft X. Note the "X"…the original Chrome Soft, and current, is a 3-piece golf ball.
Should You Play With a 4-Piece Golf Ball?
Most amateur golfers will not notice the performance differences between a 3-piece and 4-piece golf ball. Even if that is true for you, there is something to be said for having confidence in your equipment. There is a good reason so many Tour Professionals have selected the Callaway Chrome Soft X, or the Titleist ProV1x Left Dash.
They absolutely do perform. And with the ProV1x Left Dash, you can be certain that you'll gain a few extra yards off the tee!
Related – Best distance golf balls.
If you're not sold on the 4-piece golf ball, know that there are plenty of 3-piece options on the market. It is far more common to have 3-piece golf balls, which includes probably the best golf ball of all time – the Titleist ProV1.
Related – ProV1 vs. Vice Pro – Spoiler Alert, the Vice Pro is better!
Final Thoughts
4-piece golf balls are not all that common, as you can see from the short list of USGA conforming golf balls that have 4-piece construction.
There is one on the list that I had never heard of, and good luck finding them for sale! Wright & Ditson. Who?
Anyway, I think we will see more 4-piece and 5-piece golf balls hitting the market in the coming years. Callaway and TaylorMade are investing significantly in research and development and seem to be leading the way in adding new layers in their golf balls. It's just a matter of time before they make some significant breakthroughs.
Although that may be the case in the future – and maybe not – There are tons of high quality golf balls on the market. More layers does not always mean better!
Good luck on the golf course!