There are between 250 to 566 dimples on a golf ball.
The Golf ball with 250 is Kira Boon, which is produced by Japanese manufacturer Kasco.
You'll find 566 dimples on the Mizuno RB566. RB is short for Runbird.
Golf Ball Manufacturers & Their Dimples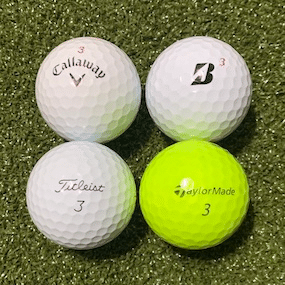 Pretty much every manufacturer will reuse their dimple patterns across multiple golf balls in their lineup. But, some of the bigger names may have a variety of patterns.
Titleist for example has 12 different dimple patterns ranging from 312 to 440 dimples. Let's go through some of the most popular golf balls and manufacturers.
Golf Ball Dimples – Titleist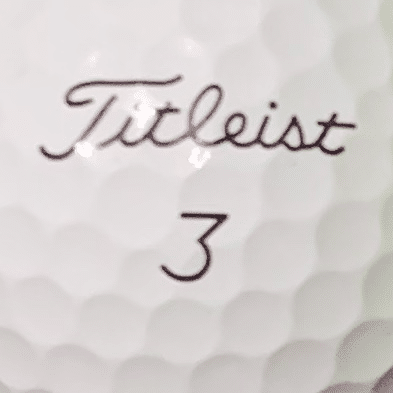 The ProV1 golf ball has 388 dimples. An older version of the ProV1 that is still on the USGA conforming ball list has 352 dimples.
Coming in with the lowest dimple count is the VG3 with 312. The Titleist VG3 is sold exclusively in the Japanese market.
On the high end, the Titleist HVC has a 440 dimple pattern. But, this is a retired ball from their lineup.
How many dimples are on the rest of Titleist's lineup?
AVX – 348 dimples

ProV1x – 348 dimples

Velocity – 350 dimples

Tour Speed – 346 dimples

TruFeel – 376 dimples

Tour Soft – 342 dimples
The Tour Speed golf ball was featured in posts on distance, for slow swing speed players, and mid-handicappers! It's an awesome golf ball, in my opinion.
Golf Ball Dimples – TaylorMade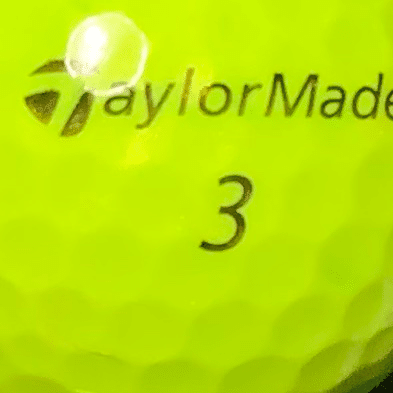 Compared to Titleist, TaylorMade keeps things simple!
TaylorMade golf balls have 322 dimples on the TP5, TP5x, and Tour Response. Kalea and Noodle golf balls have 342 dimples.
The Tour Response golf ball is featured here as one of the best golf balls for distance!
Golf Ball Dimples – Callaway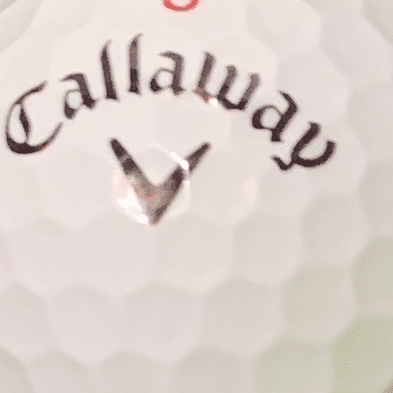 Callaway golf balls have 332 dimples. From their Warbird to their most popular Chromesoft and Supersoft balls, they all have 332.
Golf Ball Dimples – Mizuno
Mizuno mixes things up a bit, their golf balls range from 272 to 566. I guess they wanted to say they have more dimples than any other golf ball, since 566 is definitely the highest on the USGA conforming ball list!
Coming in on the low end at 272 dimples is the RB Tour.
The RB566, RB566x, and Nexdrive are 566 dimpled golf balls.
The RB MAX is a 336 dimpled golf ball.
Golf Ball Dimples – Bridgestone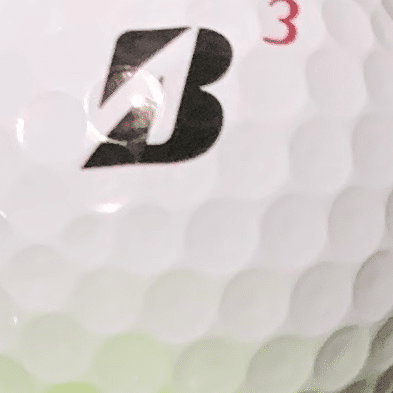 Bridgestone golf balls have dimple patterns ranging from 272 to 372. The Bridgestone Super Newing has 272 dimples, it is sold exclusively in the Japan market.
The Lady Precept golf ball dimple design is on Bridgestone's high end with 372.
I would have thought their full lineup of Tour Series golf balls would have the same dimple patterns, but they don't. Bridgestone also has a bit of a unique pattern with a mini dimple inside of the regular dimples.
How many dimples are on the rest of the Bridgestone lineup?
Tour B X – 330

Tour B XS – 330

Tour B RX – 338

Tour B RXS – 338

e12 – 326

e6 – 330
Golf Ball Dimples – Other Manufacturers
Snell produces golf balls with 360 dimples. Check out my full review on Snell Golf Balls.
Vice produces golf balls with dimples ranging from 312 to 392. Check out my full review on Vice Golf Balls.
Cut produces golf balls with dimples ranging from 314 to 360. And yes, you can also check out my full review on Cut Golf Balls.
Volvik ranges from 296 to 392 dimples, Wilson 302 to 440, and Top Flite golf balls have 332 dimples.
The Maxfli golf balls lineup ranges from 318 to 374
Golf Ball Dimples – Why They Exist
Have you ever seen a smooth golf ball fly through the air? It's crazy how erratic they fly! Titleist research and development took a ProV1 core and put it inside a smooth cover. Then they brought it out on the course to let some golfers give it a whack.
As you can see in the video, a smooth golf ball hit off the tee usually takes a hard direction change shortly into its flight.
Golf ball dimples work to create reduced drag and create lift. Some manufacturers also use patterns in an attempt to normalize side spin to prevent too much curve. The Maxfli Straightfli for example.
It is fairly common to see dimples of varying sizes and shapes on a golf ball. Manufacturers always seem to be tinkering with them.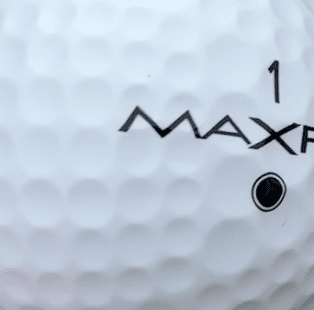 Golf Ball Specifications
Dimples are actually not one of the items regulated by USGA rules. The rules are specific to golf ball weights, size, symmetry, initial velocity , and overall distance.
According to USGA guidelines:
A golf ball cannot exceed a weight of 1.620 ounces

Golf ball diameter must be at least 1.680 inches
For initial velocity and overall distance, specific test procedures are followed that include specialized equipment and statistical analysis. Bottom line – Any golf ball that makes it onto the USGA conforming golf balls list will need to pass all guidelines. And dimples have very little to do with any of it except for symmetry.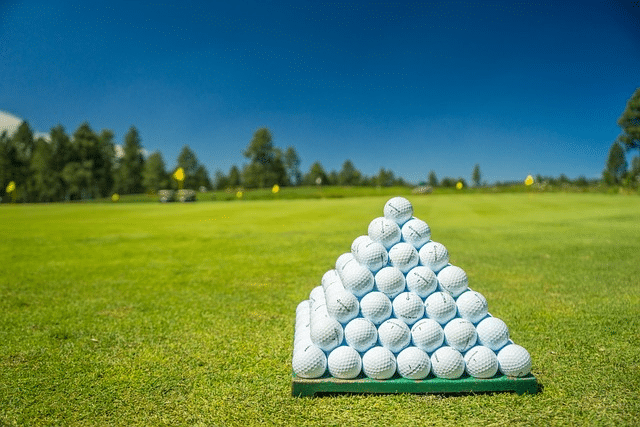 Spherical Symmetry rules state a golf ball must not be designed to intentionally have properties that differ from those of a symmetrical ball. I'm not entirely sure if dimple patterns could break this rule. But it's doubtful simply due to the fact that the Maxfli Straightfli uses its dimples to create a straighter ball flight and it is a legal golf ball.
The Polara is another ball that uses dimples to create a straight flight, and they are illegal from the USGAs perspective. Check out some other illegal golf balls here.
FAQs About Golf Ball Dimples
Final Thoughts
Check out all of our golf ball reviews and recommendations here.
Golf ball makers are consistently tinkering with the dimples on a golf ball. Adding more, making them larger/smaller, creating patterns. Some of it is probably just a lot of marketing to say they have something "new" and "advanced technology".
That being said, I think there is a lot of legitimacy to their research and development efforts. Whether those subtle advances actually translate to more accuracy and distance – I'm not going to hold my breath.
Golf ball dimples will continue to evolve and the marketing will stay in lock step. I don't believe you should let the number of dimples on a golf ball effect a purchase decision.
Knowing the number of dimples on a golf ball perhaps only satisfies your curiosity. I'm not sure about you, but I was kind of shocked to see there were 388 on the ProV1. I would have never guessed there were that many.
Good luck on the golf course!