Updated – Feb 12, 2023
In this post I will provide you with my top 5 picks on the best golf balls for seniors.
Maybe your swing speed has slowed down a bit, and you're looking for increased distance. Softer golf balls? Maybe you are looking for a low compression golf ball.
In this post, we will provide a few recommendations for senior golfers based on our personal testing and independent 3rd party tests. We also offer some custom fitting advice and tools.
Top Pick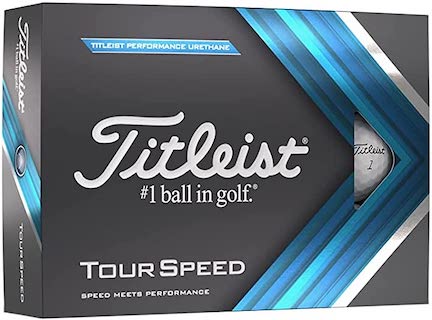 Titleist Tour Speed
Great distance no matter what your swing speed is! Price is very reasonable and soft feel.
High-End Budget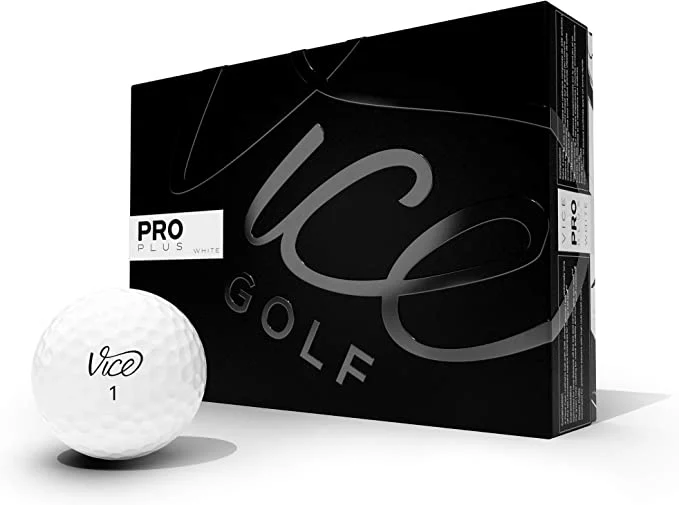 Vice Pro Plus
Great distance for slow swing speed golfers. Quality manufacturer with great pricing
Most Distance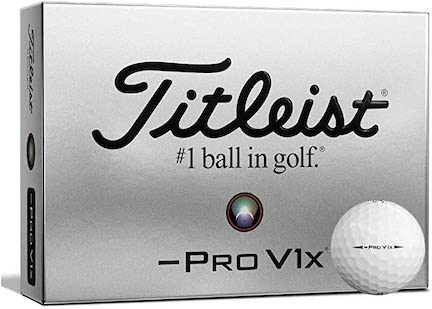 Titleist ProV1x –
The ProV1x- will get you the most distance. Firm ball with high trajectory.
Best Golf Balls for Seniors
Titleist Tour Speed
Coming in at #1 all around is the Titleist Tour Speed!
Personally, I have used the Tour Speed quite a bit. I have tested it on the simulator and on the golf course. I love it! It has a soft feel and offers low spin off the tee. It also offers plenty of greenside spin.
I have also recommended this golf ball to two senior golfers with slower swing speeds that I regularly play with. Both of them gained about 10 yards instantly.
See the chart below comparing numbers on the simulator.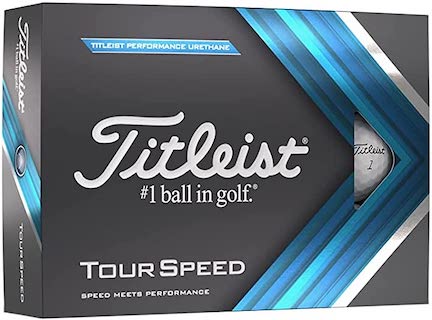 Aside from my personal experience, this golf ball is impressive just by looking at the performance numbers. Titleist has a long line of golf balls. They are also one of the premier and most reputable manufacturers in the industry.
Based on the testing data, thousands of positive customer reviews, and Titleist's reputation, I feel confident recommending this ball to anyone at ANY swing speed!
This ball performs, in every swing speed category, and was featured in my recommendations for the best distance golf balls and my post on balls for slower swing speed golfers. Overall, I think these are absolutely the best golf balls for seniors!

Quick Facts
Soft Feel and 78 compression rating. 346 quadrilateral dipyramid dimple design. 3-piece construction with a proprietary Titleist Urethane cover. The Tour Speed has a low spin rating off the tee and a medium spin rating with short irons.
PROS
Great distance at all swing speeds
Offers great greenside spin
Soft Feel
CONS
Pricing has been known to fluctuate due to supply issues (if you see them for ~$25/dozen, scoop them up!)
Vice Pro Plus
The Vice Pro Plus is another great option for senior golfers looking for a bit more distance. Vice Golf is one of my favorite golf ball manufacturers. They are a direct to consumer company, they are not paying millions to sponsor tour pro's. This allows them to pass on those lower costs.
Personally, I use their Vice Pro golf ball and love it. It doesn't get as much distance, but I prefer softer golf balls and I am willing to lose a couple of yards for the price and overall performance.
Vice advertises their Pro Plus ball for players with a swing speed of 110+, but don't let that scare you away. Independent testing at a slow swing speed put this ball at the top in distance compared to the field.
Check out my full review of Vice Golf balls!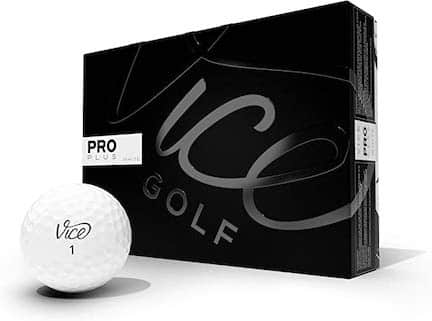 The distance performance of the Vice Pro Plus at slower swing speeds make them some of the best golf balls for seniors!
Quick Facts
4-Piece construction with 336 dimple pattern. Extra thin cast urethane cover. Firm feel with a low spin rating off the tee and a high spin rating with short irons.
PROS
Great Distance
Price (bulk discount available)
Titleist ProV1x Left Dash
The ProV1x Left Dash came in as the longest ball for slow swing speeds in independent tests, making it a great option for senior golfers. It also came in as the longest ball at the highest swing speeds.
How much distance? The Left Dash ball was ~2 yards further than the Vice Pro Plus. It was also ~2 yards further than the Tour Speed. With a significant price difference, is 2 yards worth it on the golf course? That's for you to decide.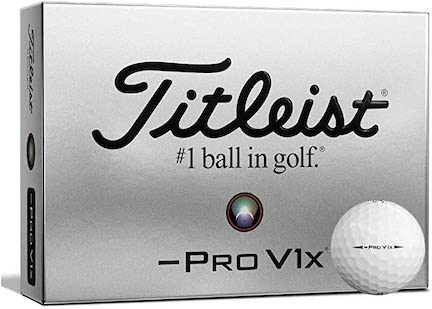 If you can get past the price, these are by far the best distance golf balls on the market, including at slower swing speeds. The performance characteristics of this golf ball are also top notch. Altogether, it makes them one of the best golf balls for seniors!
Quick Facts
Firm cast urethane cover with a 97 compression rating. 328 tetrahedral dimple design. Performed best overall in distance for golfers with high and low swing speeds. 4-piece construction.
PROS
Best distance of any golf ball on the market
Offers great greenside spin
CONS
Price
Firm ball, which many golfers do not care for
Titleist TruFeel
Titleist TruFeel golf balls are an attempt for Titleist to meet the demands of golfers looking for cheaper golf balls. Seniors will find this ball feels great and gets good distance.
I have used this ball on the course, and my first impression was that it felt great. No surprise that this one also gets 4.7 stars from over 8,500 reviews on Amazon. It is a very soft golf ball and honestly, the name is really appropriate on this one!
I have also recently tested this ball out in the simulator and it gets decent numbers in terms of distance. Spin is definitely on the lower end, which contributes to greater distance off the tee. But it also struggles to produce spin around the greens.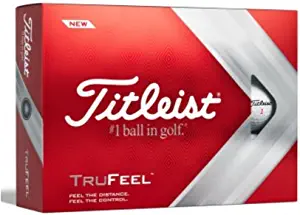 The combination of price, feel, distance, and performance make the TruFeel a great option for any golfer, which is why I think it is one of the best golf balls for seniors.
Quick Facts
The TruFeel is a 2-piece construction with a single-piece 376 dimple cover. It has a low spin rating for both driver and short irons. You can get the TruFeel golf balls in white, yellow, and matte red.
PROS
Great feel around the greens
Great feel altogether
Durability
Good distance
CONS
You'll sacrifice a little control around the greens
Vice Tour
The Vice Tour golf ball is another inexpensive option for seniors. Vice produces some really high-quality golf balls that compete with any of the major golf ball manufacturers.
I have also used the Vice Tour golf ball and found them to once again be just as long as a ProV1. I found them to be very durable and it is specifically designed for golfers of all swing speeds.
The Tour also gets some great reviews on Amazon, which I have found to be consistent with my personal experience. They have 4.7 stars from over 2,400 reviews. Players with slower swing speeds will get a lot of extra distance off the tee.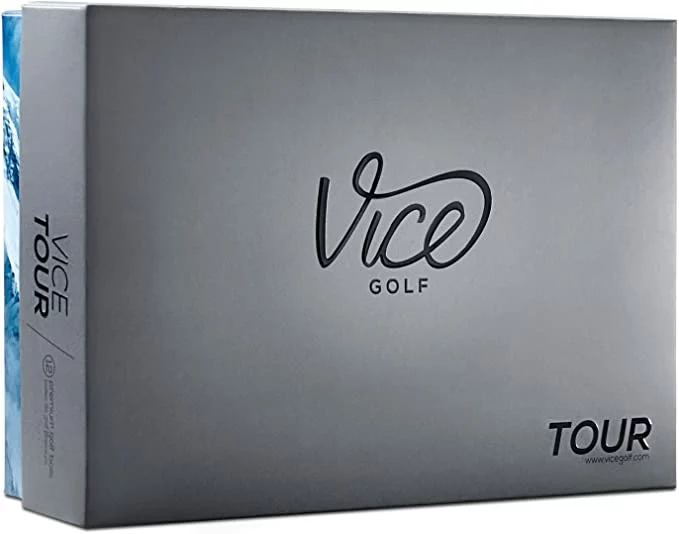 Vice Golf is one of my favorite ball manufacturers, their pricing is great and they make some very high quality golf balls. You'll find great performance and distance with their Tour ball, which is why I feel it is one of the best golf balls for seniors.
Quick Facts
3-piece construction with a 312 dimple pattern. The Vice Tour was compared to the Tour Speed in an independent study from Golf Laboratories in 2021, that test showed the Vice Tour got a little more distance. The 2022 Tour Speed came back a bit better the following year, but we are talking about feet at this point, not yards.
PROS
Great distance at all swing speeds
Good greenside spin
Durable
Price
CONS
It is a firmer golf ball, which some may not like
Low compression golf balls for seniors?
I am sure you have all heard that in order to get maximum distance, you need to be able to compress the ball. Well, with today's ball technology, that's not always the case.
The best type of golf ball for seniors is no longer dictated by low compression or a label that says "senior". In fact, one of the balls I'll talk about a little later, is an illegal ball designed just for seniors and maximum distance.
Spoiler alert – In independent tests, it did NOT meet expectations of its marketing.
The best distance golf ball for seniors is the Titleist Tour Speed. This is a golf ball I have thoroughly tested, both personally and with a 70 year old friend of mine. I'll show you the numbers later.
Bottom line – Lower compression golf balls do not necessarily go further. With newer ball technology and extremely sophisticated launch monitors, this has been proven over and over.
"Senior golf balls" is not much more than a marketing ploy by the golf ball manufacturers. At least in my opinion.
The longest hitting golf ball on the market is the Titleist ProV1x Left Dash, by a significant margin. This has held up with moderate swing speeds testing, as well as slower swing speed.
Most popular golf balls
Many senior golfers, well, anyone for that matter, will default to well-known manufacturers when they think of the best golf ball. The two I have called out already are both titleist golf balls.
Probably the biggest golf ball name in the golf industry. They are known for making premium golf balls, and they do! But that comes with a cost.
With a couple of relatively new names in golf ball manufacturers in Vice and Snell, you can now get a premium golf ball at a discount.
Explore a range of economical golf ball choices for budget-conscious golfers
I also have an article on low spin golf balls here.
Senior Golfers and Illegal Golf Balls
Now, I am not recommending you go buy and play an illegal golf ball. But there are golf balls out there that are marketed to senior golfers that are not USGA compliant.
The MG C4 golf ball is one of those.
It is marketed for maximum distance.
The problem with this however, it doesn't actually perform as well as many others. At least not according to independent tests performed by MyGolfSpy.
They used a robot and a high-end launch monitor to test dozens of different balls. The MG C4 was on their list. For their low swing speed category, it came in at #10 for distance.
It was at the bottom of the pack for mid-swing speeds, and somewhere in the middle for high swing speed.
Although illegal balls are high on marketing and promises, I don't think they deliver. We see that with the testing done by MyGolfSpy in the MG C4.
Generally, this is also true in other independent reviews I've come across over the years. One of my favorites is from Rick Shiels, go on over to YouTube and check out one of his reviews.
Bottom line – an illegal ball really isn't going to help you much. If you find one that has helped and you disagree with me, please share your experience. I'd be happy to be proven wrong here!
Final Thoughts
There are plenty of great golf balls out there for seniors. A focus on adding a few extra yards of distance is probably the primary goal for most older golfers.
Golf balls perform drastically different at varying swing speeds, so choosing the right one for your individual swing speed can make a significant difference in your game.
Check out our golf ball selector tool to help you narrow down all of the golf balls in your particular swing speed category and to meet your specific performance preferences.
Good luck on the golf course!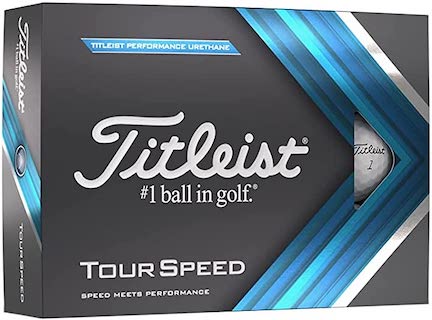 Titleist Tour Speed
The Tour Speed is by far my favorite ball for seniors. It feels great, and gets awesome distance off the tee. Heck, it gets great distance and ball speed with any swing speed. One of the best golf balls overall!